Patagonia
December 9, 2022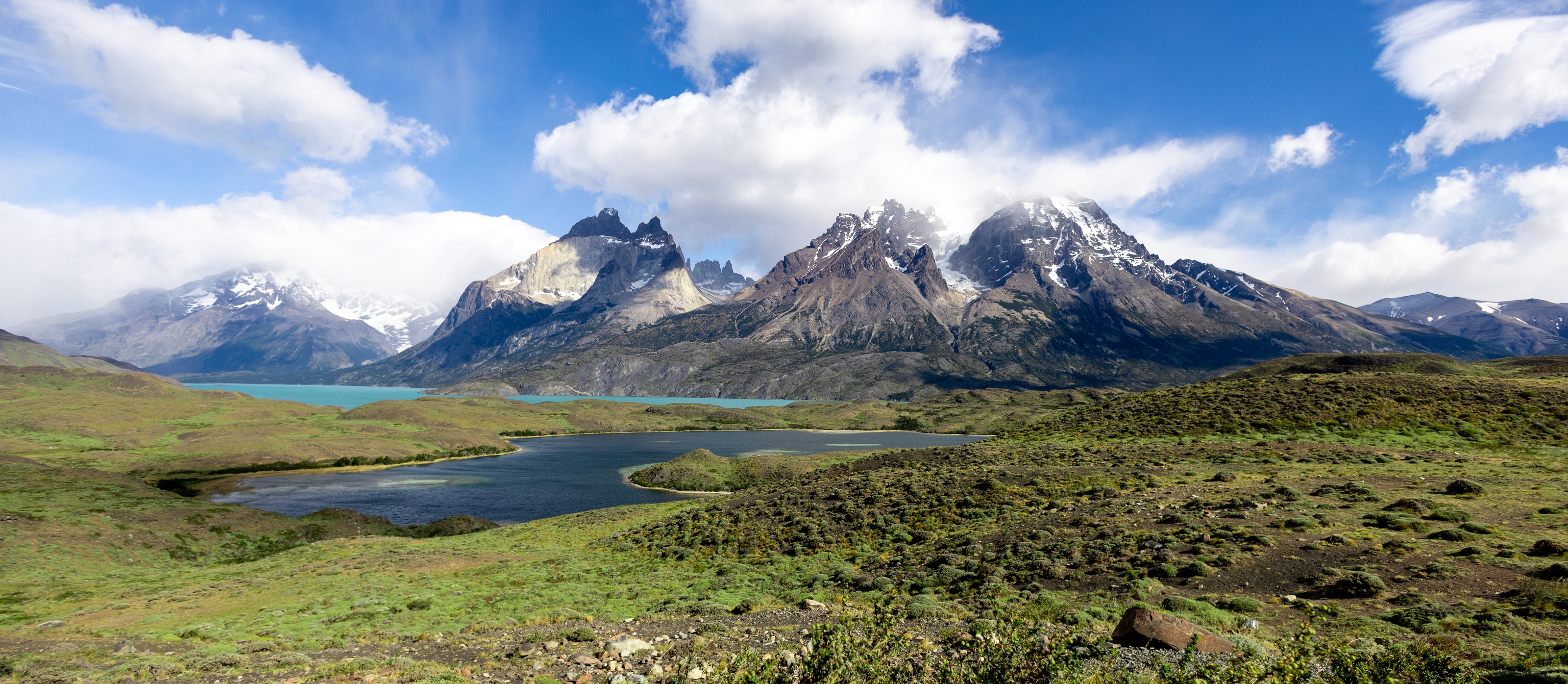 If you're trying to do this yourself or for some background on our planning process, see our write up about how we got here.
Patagonia is a place of contrast between expectation and reality.
It's one of the most remote regions in South America, a three hour plane ride from the nearest capital city. Yet the airports are brand new with wooden trim and panoramic views over a bright blue glacier lake.
The iconic photograph of the region are glaciers that span for miles. Yet when you drive into the park by bus, you're surrounded by rolling hills of small shrubs and yellowing grass.
Mountains of rock line the horizon, topped with snow and devoid of life. Yet inside the valleys they teem with plant and animal life.
We were able to spend 10 days in Patagonia. It was equal parts beautiful and physically demanding. I was surprised by how popular and heavily trafficked some of the routes have gotten. Others are near silent and prestine. I came away with the belief that the natural wonder of Patagonia is still alive and well, you just have to look a bit harder for it than you might have a few years ago.
Orientation
Patagonia is the region between the Andes in the west and rolling plains in the east. The region is almost entirely one connected glacier field, which touches Torres del Paine, El Calafate, and El Chalten - the three areas on our trip through the countryside.
Weather can change dramatically by the hour. We went in the spring during one of the more ideal months (November) and still got 2/10 days of blue skies. We also only got 1 day of mist and 1 day of heavy rain. Most days were somewhere in the middle.
Torres del Paine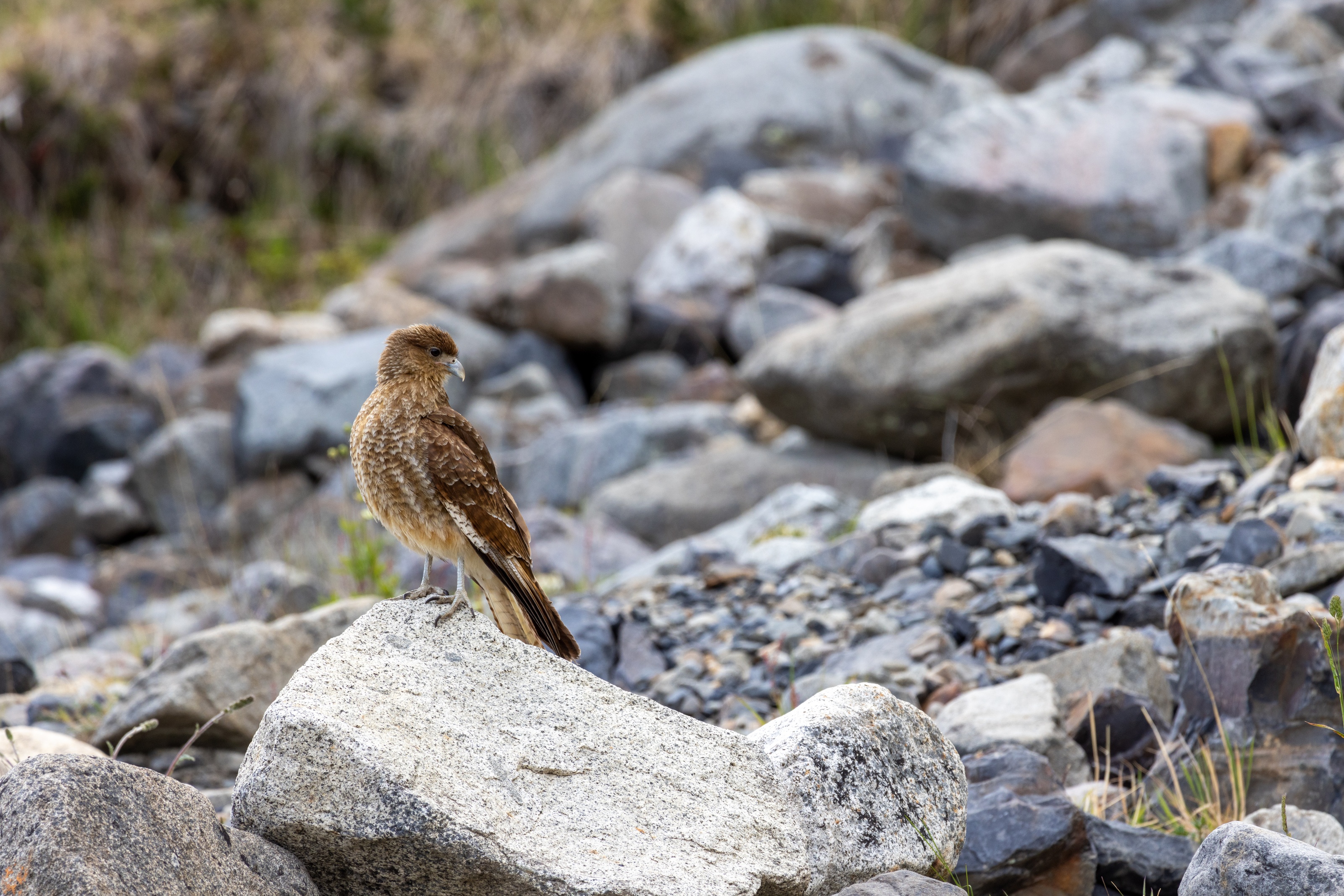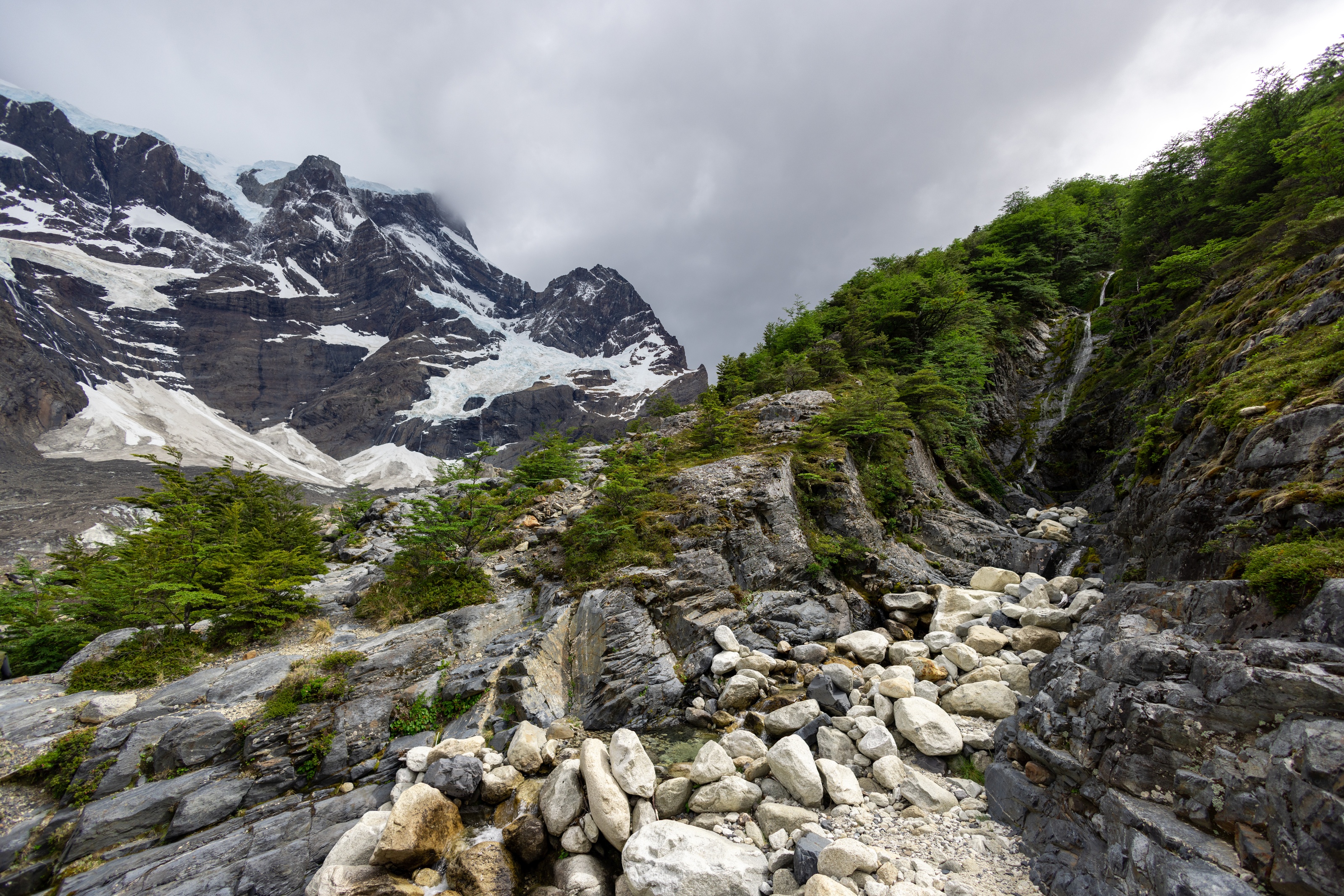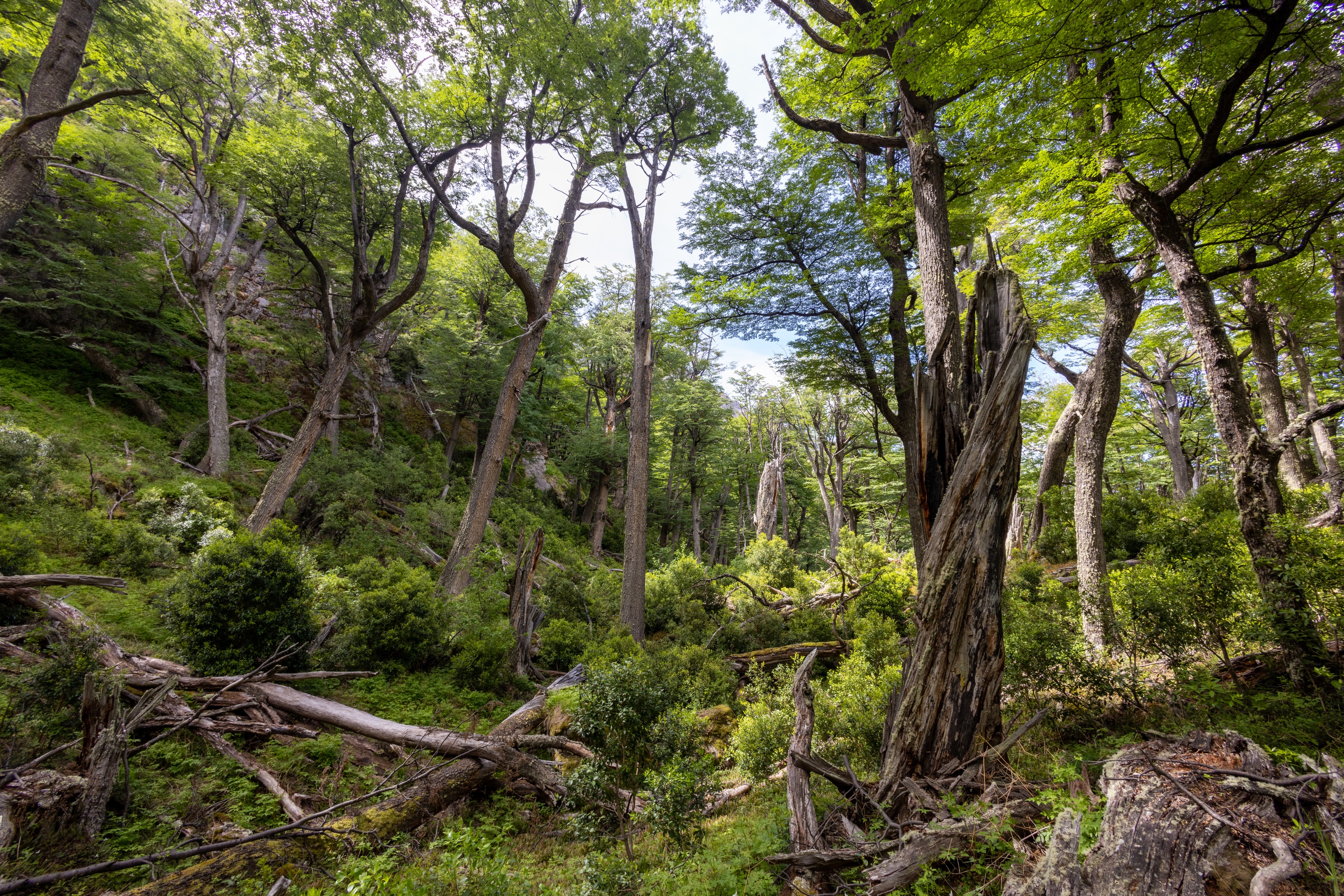 Torres del Paine is the main park in Chilean Patagonia. It's a short bus ride from Puerto Natales where we slept the first night after we flew in from Santiago. Puerto Natales is clearly a town for people who are visiting or work in the park - it was quiet at all hours, with the occasional bike rider going along the lakeshore, and a handful of restaurants catering to people that have backpacks in tow.
We did the W in four days. Some people do it in as few as two, but I'm convinced that's categorically insane.
Looking at the mountains that form the W, there are two main base camps that are currently operational. On the western (Grey Glacier) side, Vertice owns and operates the refugios. On the eastern side (Torre Central) they're owned by Las Torres Patagonia1. Higher in the mountains there are other Refugio's that can be used as jumping off points for later hikes. The Torre Central side seemed way busier with day hikers.
Day 1: El Centro <-> Las Torres
Las Torres (The Towers) is a series of rock formations at the peak of the mountain that give the park its name. We hiked from base camp to the towers and back in one day. The route takes you up the central valley and over the first mountain to enter the main valley overlooking a roaring river. When we crossed the river by bridge we saw a group of horses crossing below us. They rely on this crew of horses to deliver equipment to the refugio that's in the middle of the valley - there's no other way to get goods in or out.
Past the refugio there's a straight climb to the top. You scramble over a patch of bounders before finally making it to a glacier lake. Once we got there it started raining aggressively. We crouched under a boulder for some shelter and to have a quick sandwich and watched the hilarious sight of 100 people quickly come to the lookout, take an obligatory photo of a job done, and immediately leave to find shelter back at base camp. With the weather being what it was I didn't fully blame them.
On the way down the rain had mostly calmed down but it had rained enough for streams to form in the gaps between rocks. Our shoes mostly kept their grip but we started sliding around a bit once we got to the bottom.
At basecamp we met a group of older German tourists that we kept running into throughout the park. They were spending a month around South America and doing different hikes. Their frankness was charming. They openly lamented how slow they were having to move together but still spent two hours over beers each day. They didn't seem to mind.
Day 2: Las Torres -> Paine Grande -> Grey Glacier
On the next day we took a boat across the lake to Paine Grande. We were to spend the night at Gray, tucked in the middle of the mountains. The walk there is just over four hours so it was the shortest day we had but involves one major climb before being able to switchback to the refugio.
Along the way the sights were breathtaking. When we caught our breath at a stop, an eagle glided five feet over our heads and swooped back out to the glaciers. Even more than the first day, the different landscapes were on full display. We walked alongside an expanse of glacier lakes on exposed rock, which morphed into lush forests, and thick grasslands.
We met a friendly British couple at camp. They were taking a full gap year inbetween medical school and residency to travel around. They did a circuit around North Africa before getting into Patagonia a few weeks prior.
Day 3: Grey Glacier -> Bridges -> Paine Grande
This was my favorite day. We hiked further into the mountains to see a set of three suspension bridges that cross valleys in the mountain. These bridges give you direct views over the glacier field, where the sheer cliffs of ice abut the water. It goes for miles before disappearing into the clouds. This part of the trail was unusually quiet in comparison to the previous days. We saw all of five people, mostly people doing the O hike.
We then re-tracked our path from that day and the previous one to arrive back at Paine Grade. At this point the wind started gusting more heavily. It was so strong in parts that it blew us around and off the path. It kept up well into the night and shook the tent to the core. I was so tired I barely noticed.
Day 4: Paine Grande <-> Britanico
The French Valley is inbetween the two previous valleys we hiked. We did it as a day trip from Paine Grande. We made the right move in getting up early (~6:30) to start the hike. It had already been light for an hour so visibility was no issue. There was no one on the trail when we started - but coming back we saw the swarm of people who got started after breakfast.
This was the most rugged of the hikes that we did. There wasn't much forest cover, so you're walking along exposed rockfaces for a long part of the hike. There is a scattering of trees fed by the river that runs alongside you - with waterfalls, water spray, and the occasional rainbow.
It was from Paine Grande that we caught the boat back to the other side of the park, and from there a bus back to Puerto Natales.
On Refugios and Campsites
The refugio's were great. They serve good, hearty dinner food that is much appreciated at the end of an aggressive hike. The people there were my favorite part. There was a variety of people from around the world - a lot from Chile, some from greater South America, and a lot from Europe. One even did the same hike that we did in Switzerland within the same week that we did, which was a wildly unlikely coincidence.
Renting tents was an easy process. They have them permanently set up and just give you a fresh pair of sleeping bags when you arrive. We had reserved ours ahead of time (through one of Vertice's bundled packages) but they seemed to offer same-day rentals as well. The campsites seemed at half capacity when we were there.
The refugios do have outlets to charge some devices, but they're few and far between. And the power strips are pretty limited on space. Bring a native plug if at all possible - converter blocks are too big.
Takeaway
I was amazed by the diversity of landscapes in close proximity to one another. You go from grasslands to thick forests to glaciers, sometimes all in the course of an hour. Usually you get a view of at least two or three at any one time from where you stand.
This was also by far the hardest hike that I've ever done. Every day was at least 15 miles, about a quarter in straight vertical gain. To be honest, we weren't sure what we were getting into. We passed many people who were struggling to even get up the mountain. Others were climbing up like mountain goats. This is a place for people who enjoy Type II fun - and who are seasoned trekkers. I'd advise anyone else to avoid the W.
El Calafate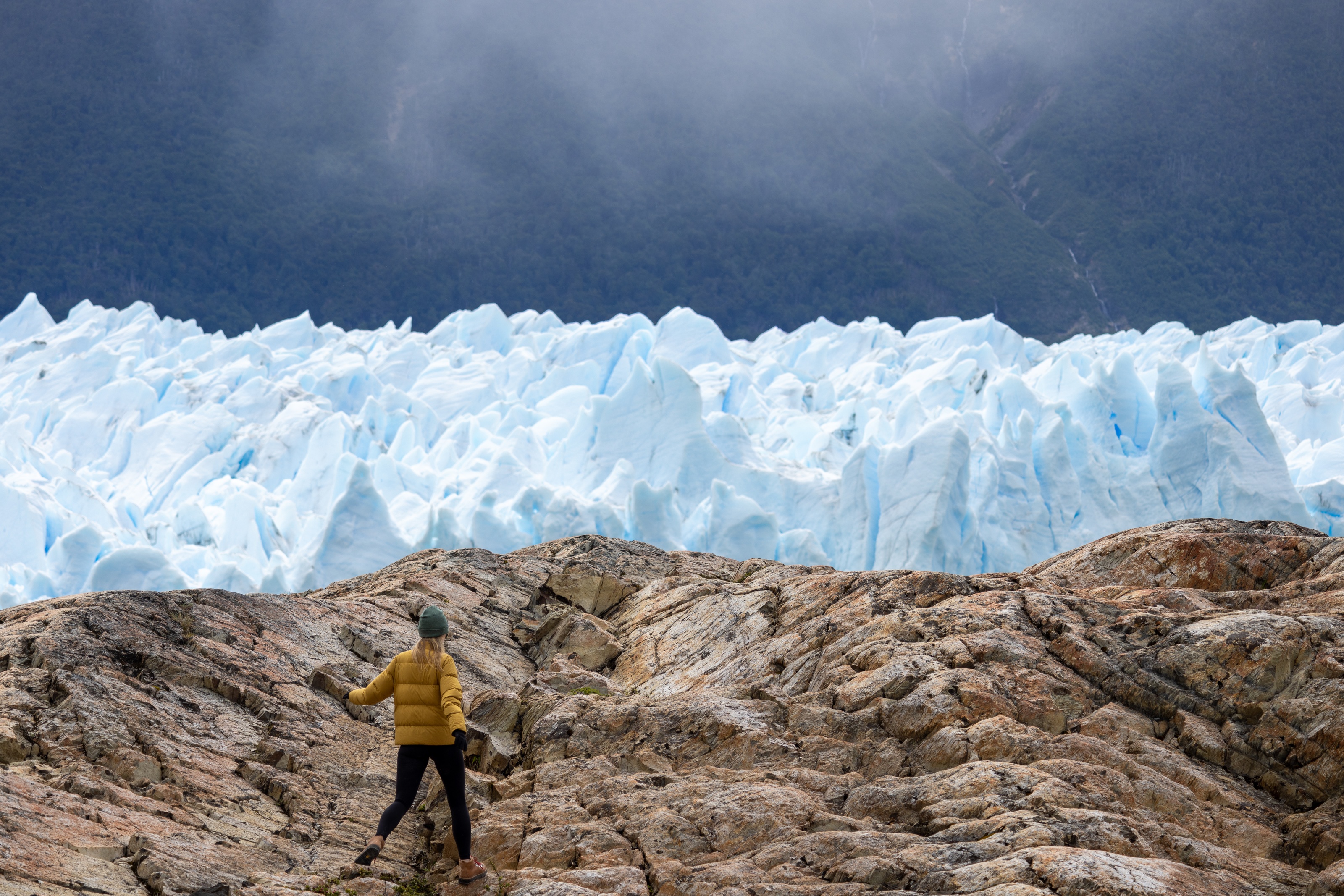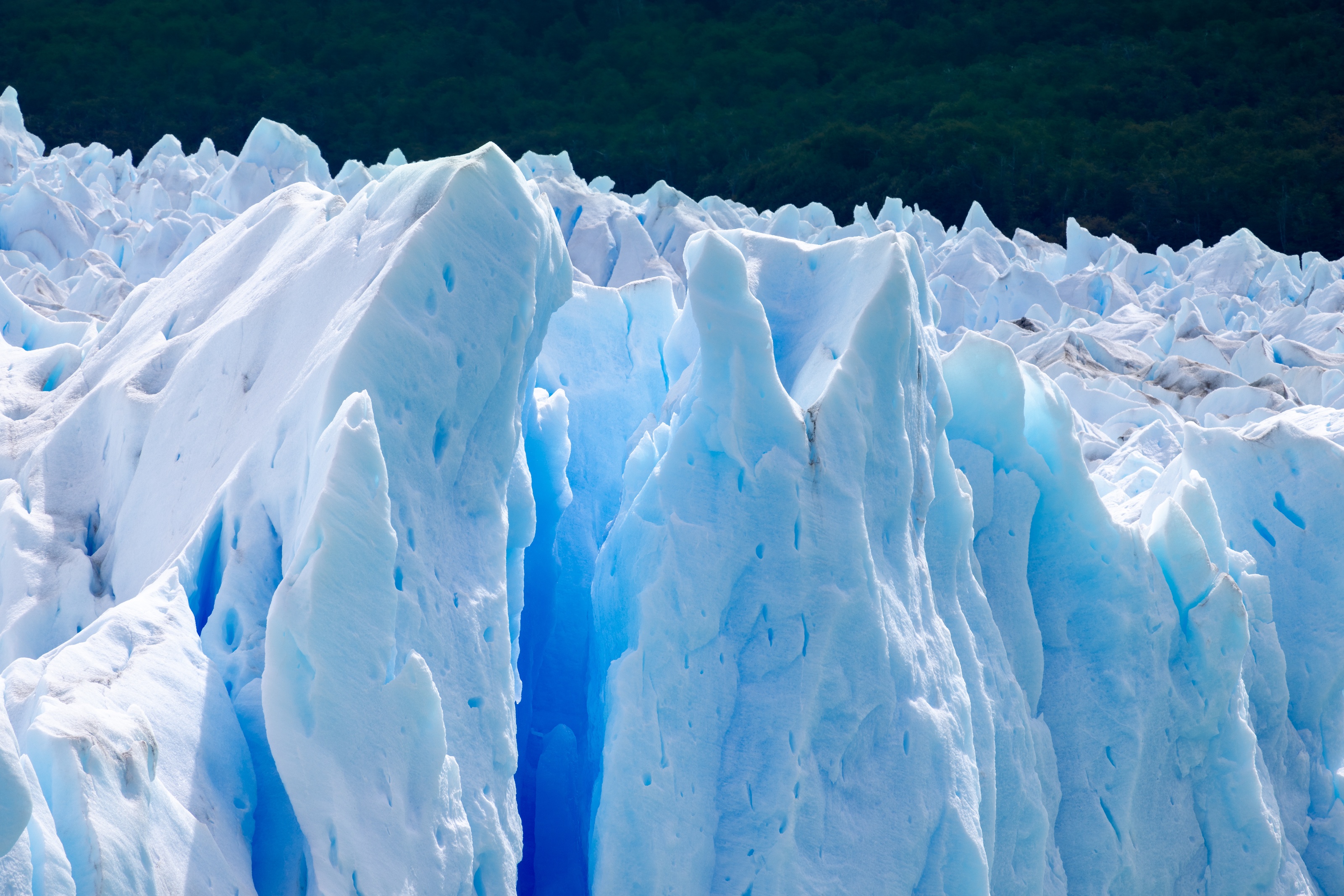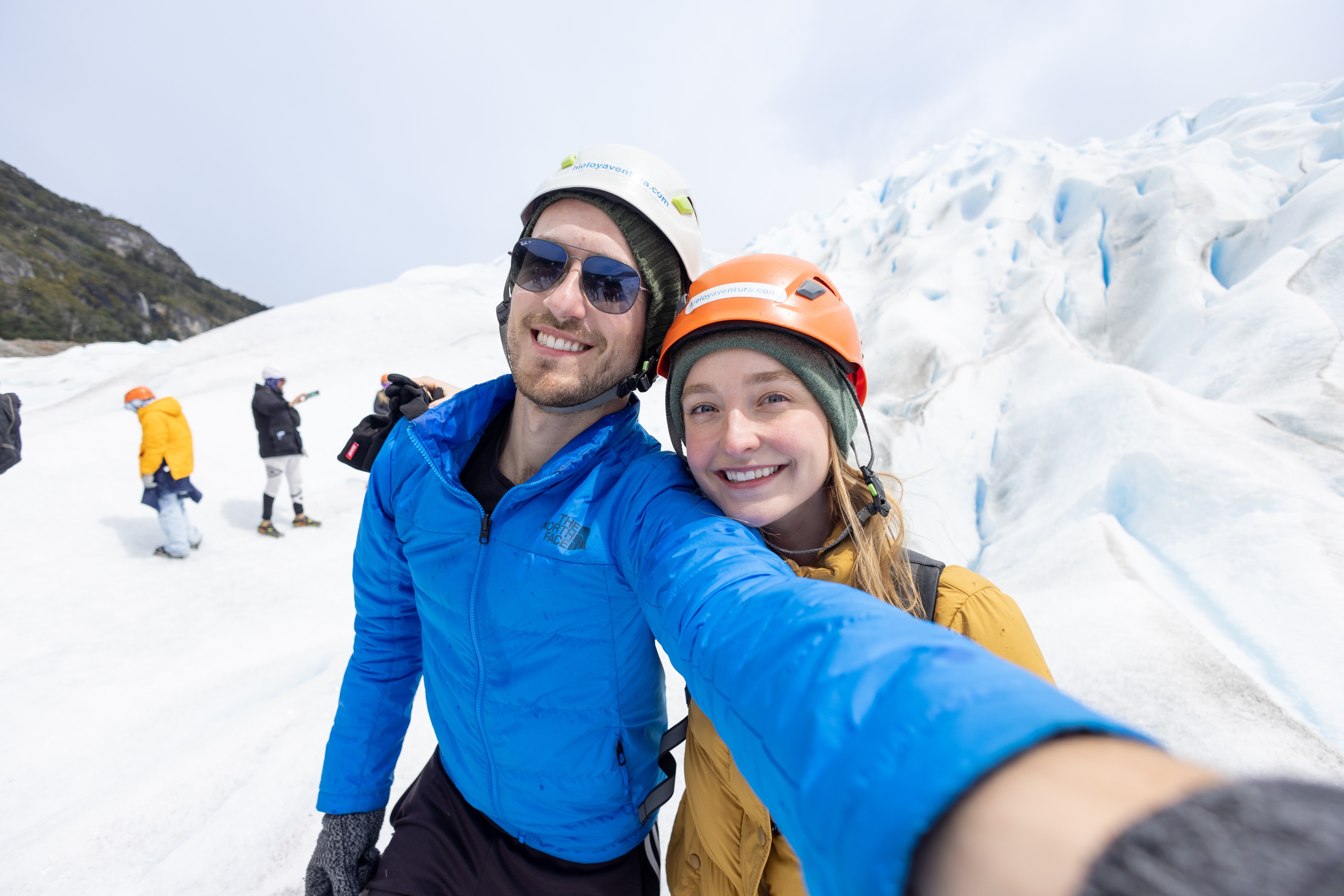 Once we left Puerto Natales we crossed the border into Argentina. I was surprised how built-up the town of El Calafate was. There's a bustling downtown, significant car traffic, and a variety of really good restaurants.
The main attraction of El Calafate is the glacier, which is fully accessible from the town after a short drive. We were strongly recommended to do a guided tour on top of the glacier by a few friends. I was worried this would be lame but we were assured it's much cooler than it sounds. They were right.
There's only one tour company that conducts the glacier tours and the include a full tour around the glacier national park as well. Our guide was clearly knowledgable and shared a bit of history of the place, but mostly let us walk around with jaws on the ground. Being on top of the ice feels like an alien landscape - blue hues of carved ice glint with the sunlight and you can see a few water streams running below the ice.
The El Calafate is unique in creating an ice dam when there's enough growth in the glacier that it blocks the river. There was no bridge when we were there but there was a recently accessible cave that we walked inside. A similar cave last formed 9 years ago so we managed to catch this at the right time.
There's a nearby observation park that gives great views of the glacier. It has suspended metal walkways so you can traverse the mountain and spread out to see it from far away and up close. At one point in this observation area we realized no one was around us, just nature photographers. The park was silent - just the birds chirping and some small glacier fragments falling in the distance.
Once it started to rain we wandered into the nearby cafe to grab a coffee. We found 300 People watching the Argentina / Australia soccer game inside. I had found the source of the silence. The second we walked in they scored the 2nd goal of the match and the crowd went wild. I lucked out to not spill my coffee.
El Chalten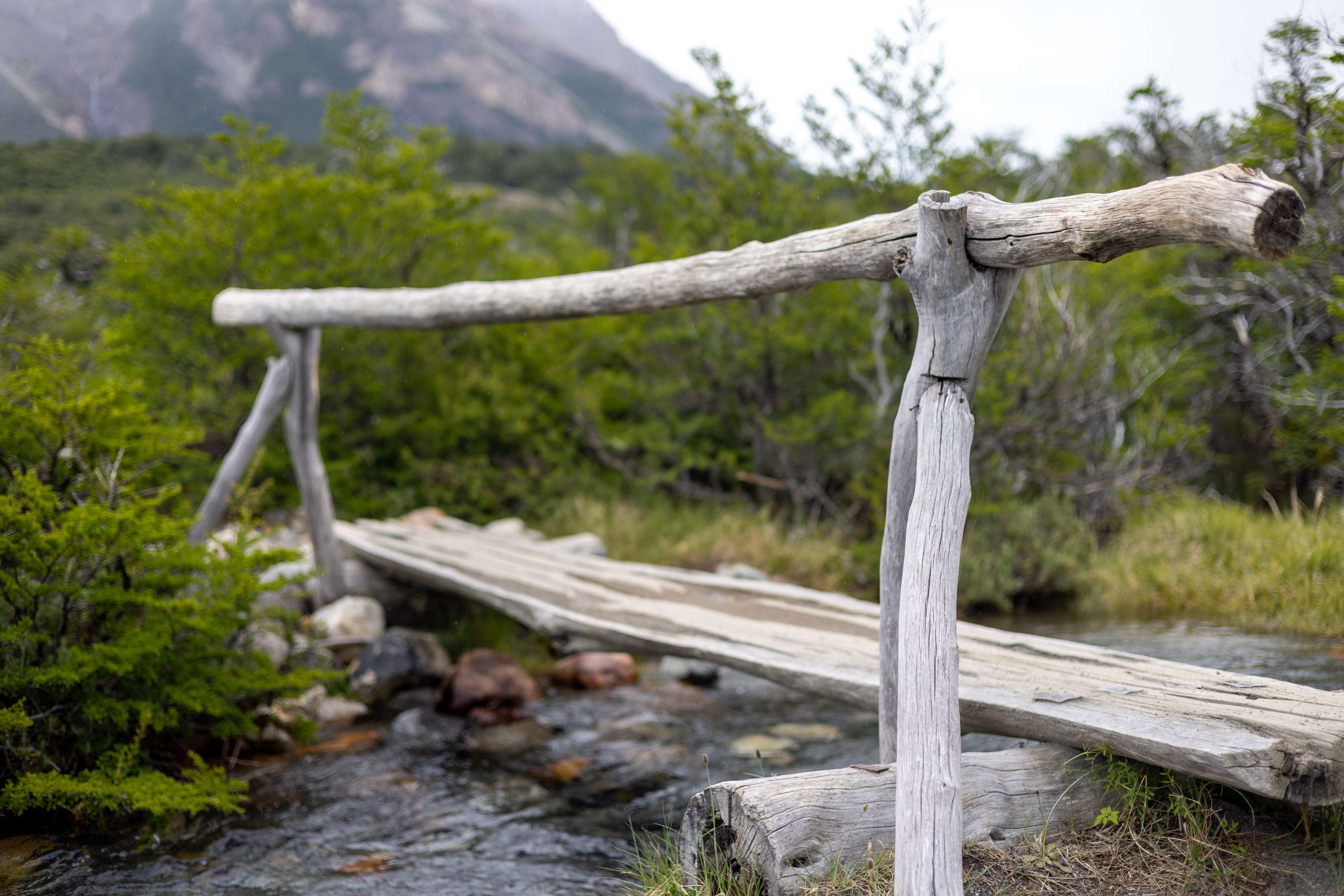 We took another bus from El Calafate to El Chalten. El Chalten is way more remote in comparison, clearly mostly a mountain town that acts as a hub to the park.
We hiked Cerro Torres on a rainier day. Hiking culture is much more casual here. Barely anyone was bringing walking sticks and there were a handful of young kids on the trail with us. There were a lot of hikers on the trail when we went; it felt like we were crossing paths with someone every minute.
The hikes here were far less challenging than in Torres del Paine, so we had a bit of downtime in the evenings to focus on some work. This part was a mixed bag. The town isn't on a fiber optic line so all internet is via satellite relay to El Calafate. In bad weather this cuts out almost entirely so we left most of our real work for Buenos Aires.
Most places here don't accept credit card and there's no ATM that worked for us in the city. We had to stretch our cash from El Calafate and find places that we knew would take card.
The restaurant Mathilda deserves a special mention here. The food was amazing - chicken curries, homemade gnocchi beet pasta, red sauce fettuccine. There's a good selection of other places in town but we still found ourselves going back a handful of times during our stay.
We stayed a few extra days in El Chalten before heading back to El Calafate, which features the region's airport. Next stop: Buenos Aires.
Conclusion
There's a range of meanings when people say they've visited Patagonia. It could mean they climbed on a glacier with a tour group or they spent two weeks hiking in the back country. Both give amazing views but are wildly different experiences. Different physical exertions, different amount of people, and different structure in activities.
I'm happy we got a mix of both. And in return I had to pay a small price - my feet are still recovering to this day.
---
It used to be owned by Fantastico Sur but they went bankrupt during the pandemic. As a result the branding is often confusing online and in-person. Half the busses still were labeled Fantastico Sur but the others were updated. ↢