Santiago
December 8, 2022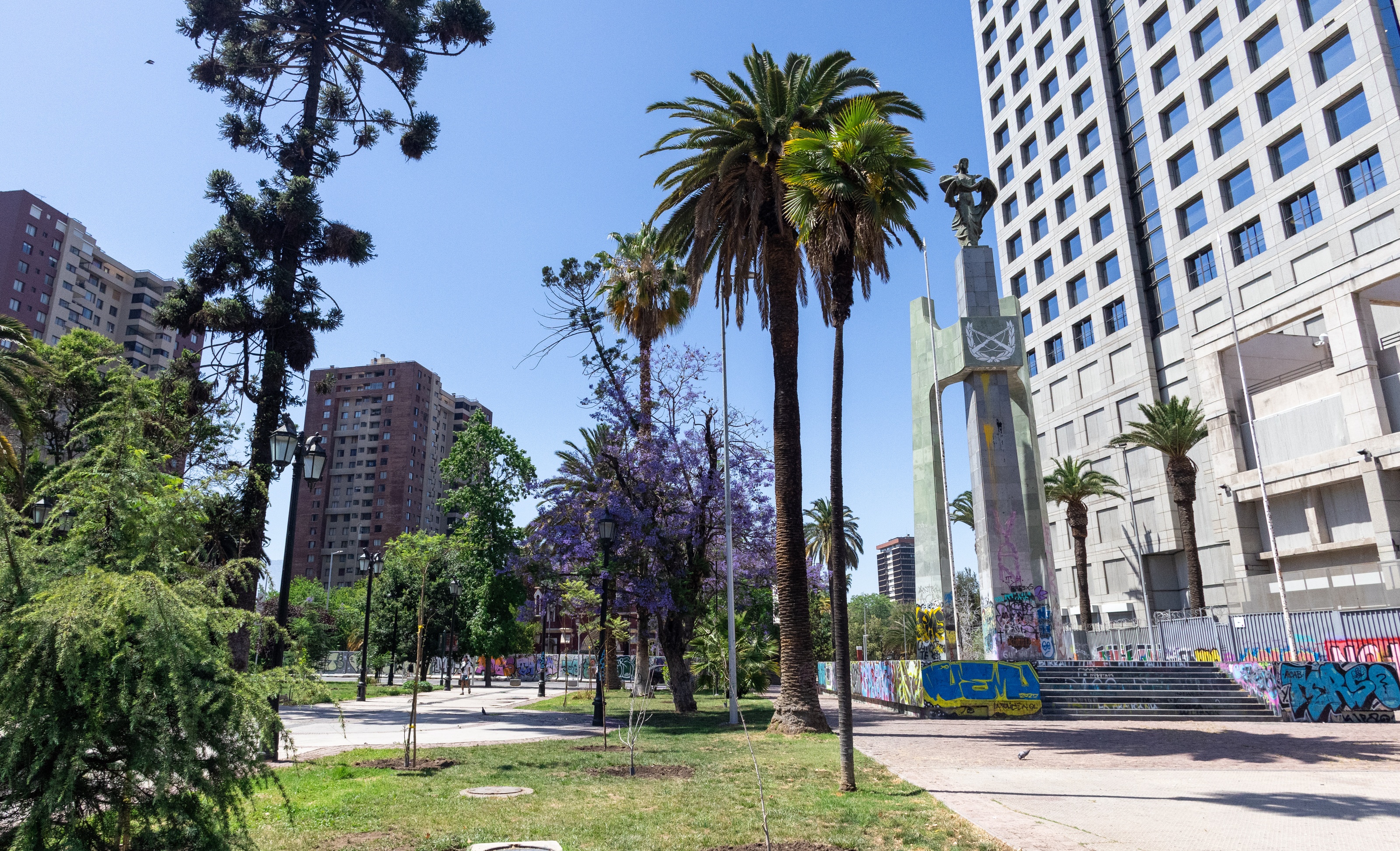 I know a lot of interntional visitors who treat Santiago as a layover on their way to Patagonia in the South or wine country in the East. We saw enough of those travelers in the airport trying to get an wink of sleep on top of their bags. I'm convinced that's a mistake.
There's a thriving university culture, good food, a lot of construction, and fast internet. Plus the people are just really nice.
We called a cab from the airport and our driver Juan started chatting with us the second we stepped inside. Born and raised in Santiago, he was obsessed with telling us about all the beautiful places we could visit in Chile. Rainforests, deserts, rolling hills, beaches. I laughed and told him we only had a few days. He said not to worry - he could drive us anywhere we needed to go.
We ended up staying in Santiago until heading South. We wanted to see all that the city had to offer.
Restaurants
Bocanariz Wine Bar: Popular winebar with seating inside and out on the sidewalk. The warm night air gave it a vibrant energy. Incredible empanadas. Their servers recommended a Chilean wine flight where I couldn't choose a favorite varietal. The wine scene here seems like it's always been strong, but recently it's gained not international notoriety because of the French vineyards that are expanding cultivation of their grapes in the local region.
Peumayén Ancestral Food: This place prides themselves on authentic preparation of historical, native dishes. They have breads of Chile, meats of Chile, and desserts of Chile. The bread one in particular was noteworthy - it had one dish from every region from North to South. Our hostess had a tattoo of Chile on her arm that she used to point out the different places. Unclear if she got the tattoo before or after she started working there. If the latter I hope they don't change the menu.
Doméstico: Found this spot by happenstance when we passed by an open alley. Hanging flowers, great ambiance, good coffee.
Oculto Beer Garden: It's hidden in plain site on a quiet street. The door is placed directly in the middle of a huge concrete wall, but it blends in to the scenery so on a quick glance it doesn't look like there's even one there. Once you enter there's the chatter of laughing with starry lights strung across Palm trees. They have four restaurants that operate out or the space so you can order a small or big thing to go with your drinks.
Barrios
We stayed near the center of town in Lastarria. It's next to the university so there are a lot of young people walking around, grabbing coffee, and hanging out. Everyone seemed happy to be around and be in the nice weather. There's a lot of grafiti on buildings, with some storefronts shuttered or others barracaded. I assumed the latter were a result of the pandemic lockdowns.
Each neighborhood is very different. There's pleasant landscaping across the board with tree lined streets and pretty calm traffic. Each one feels very safe - but to sanity check we asked some of the people we know there. They said during the day all is definitely fine. During the nights it is probably okay but some neighborhoods are better than others. We walked around Lastarria pretty extensively at all hours - there were usually a lot of other people about and we felt just fine.
While we were at La Domestica, we struck up a conversation with a barista that asked for some travel recommendations in Europe. Turns out he is a trained ceramics artist that made all the pottery in the coffee shop. We gave him some of our favorites and eventually started talking about the local scene. He mentioned the protests that happened in 2020 around the same area, which were the original source of the street art. There wasn't a single root cause of the discontent but it started around the university to protest transit fare increases and then spread from there. The neighborhood is still rebuilding.
When walking around sunset on our last night in the town we stumbled on a park packed to the brim. There was an arts convention there with some musical performances, popup shops, and art installations. I was impressed by the amount of city programming that appears to always be active.
Miscellaneous
Speaking Spanish is a near necessity in some neighborhoods. I'm sure you could make do with some combination of gestures and Google Translate but if you have time to brush up on Duolingo, I'd do it.
I expected to need cash more than we actually did. Every place seemed to accept credit cards on the same small blue card reader that they would bring to the table. That would also always ask if we wanted to add the propina (tip) - which I thought of as somewhat of an obligatory formality, but they always seemed genuinely happy when we said yes.
We were warned to stay from the water in Santiago. Based on our experience that seems like undue caution. Chile tracks most of the metrics that Europe and the US do on water quality and in most regions they pass easily. We had no issues drinking the water from the tap - but if you're feeling cautious, every convenience store sells bottled bottles for about a dollar per liter.
Internet speeds were stellar in our apartment and in the coffee shops that we visited. Almost everywhere has wifi that you can access with a password. Just ask the front desk and they'll write it down for you. You can also get an eSIM with 20GB/30days for about $20 online, which is what I loaded up on my phone for day to day walking around. In a pinch I even tethered my laptop on this connection and it also worked.