Buenos Aires
January 10, 2023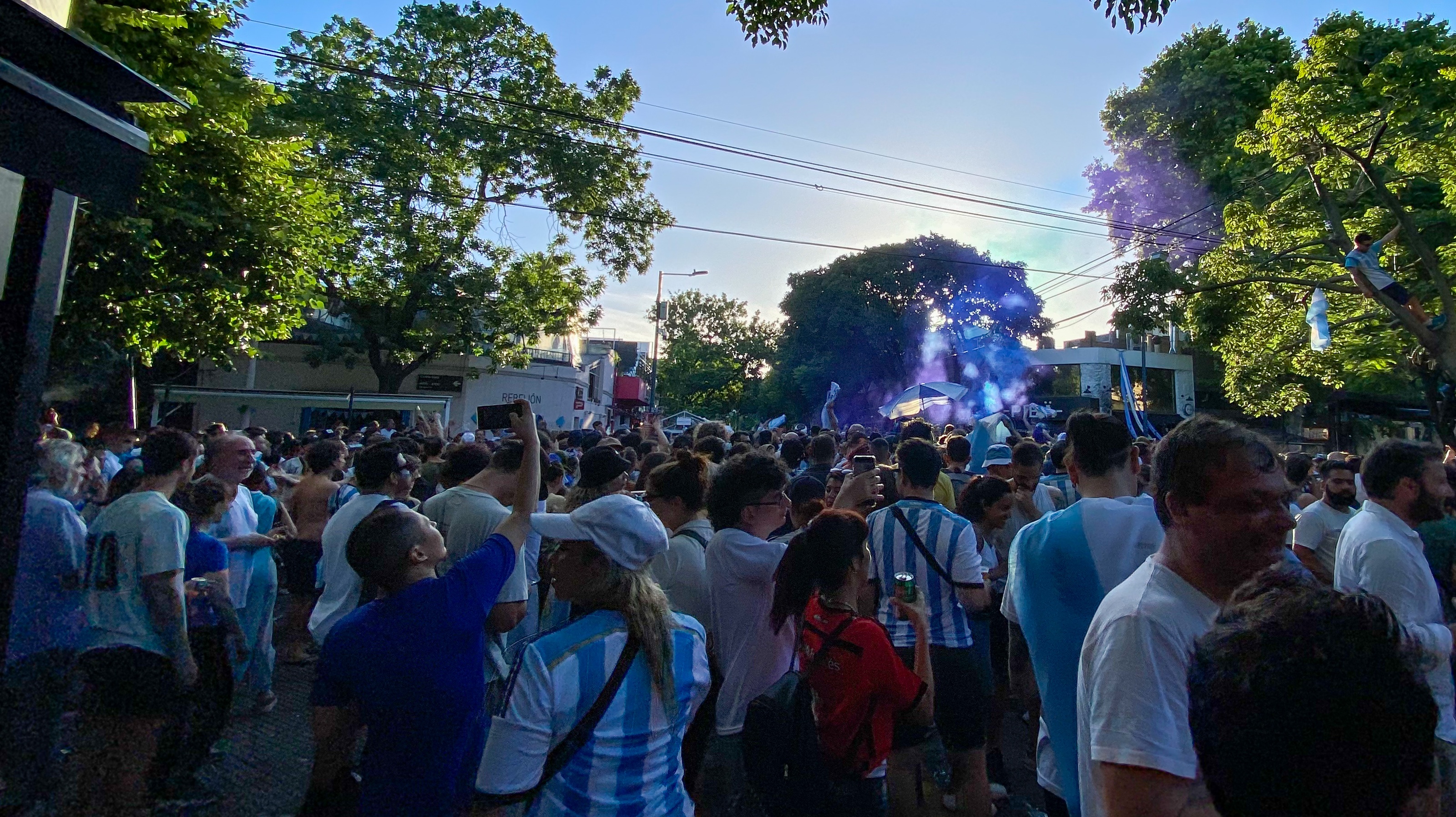 We were in Buenos Aires for two weeks after Patagonia. It felt surreal to be walking on a glacier one day and riding on a metro the next but that's just Argentina.
Our original plan was to stay for a few days and head to the Bolivian rainforest. But as luck had it, we arrived right as the quarter finals of the World Cup got kicked off when Argentina faced off against the Netherlands. We decided to stay until Argentina was eliminated or won it all.
We're very glad we did.
Community
When you peel back the top 10 must-see attractions and the TripAdvisor forums, what defines a city? The architecture? The restaurants? The industry? I'm inclined to believe it's the people. Or perhaps more-so the emergent properties of culture that build up when people get together. Individual people can come and go but the greater tide of culture changes slowly around them.
In Buenos Aires, that means welcoming in strangers. We talked to everyone - cab drivers to store owners to people passing by in the park. Nothing was off limits. Soccer was an obvious topic but we usually segued into politics, region, and inflation. I found this openness rare compared to many places where people are a bit more guarded.
People almost universally believed they needed a change of government priorities. Inflation over the past year was 100% and not much is being done to keep it in-check. This has mainly hurt workers or businesses that get paid in Pesos. Businesses that do international commerce and get paid in USD are less affected but still have to manage the logistics of the conversion rate. Managing a business right now was universally characterized as a pain.
One thing you'll quickly notice when you're out and about is the lack of any visible traffic rules. Most streets don't have stop signs - even for four way intersections. Instead, the flow of traffic largely carries cars through. When a car comes to the intersection against the flow of traffic, they wade their way in slowly, and eventually are given enough of a gap to squeek through. Our Argentinian friends were so unfazed by this dynamic when we asked about the safety of driving, they took it to mean the safety of neighborhoods we were driving in. The driving itself was "perfectly safe." I passed on renting a car.
Neighborhoods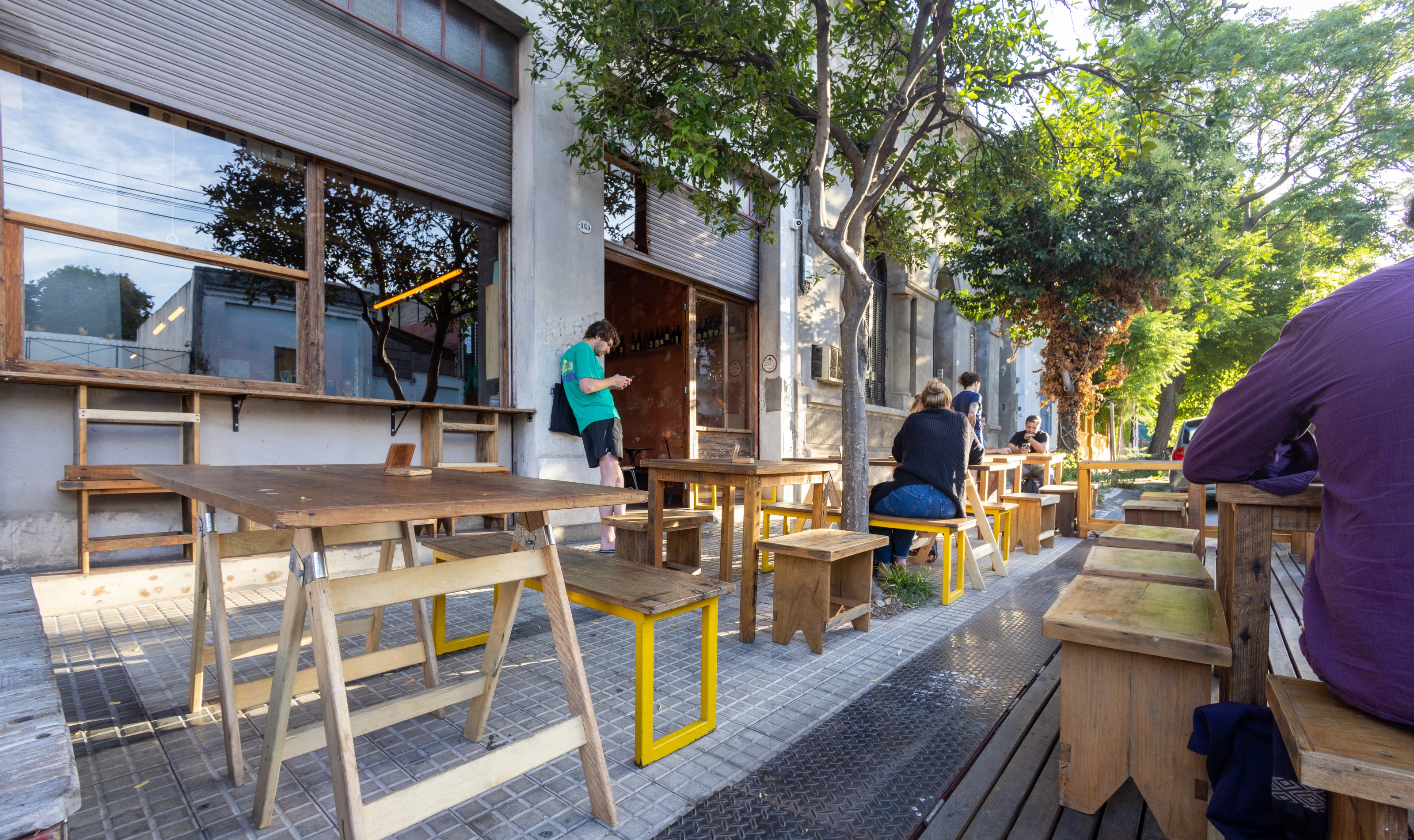 Buenos Aires is a big city. By big I mean we spent some nights driving with no traffic for an hour and didn't even get from one side to the next.
On the recommendation of some friends we stayed around Polermo. Polermo is a relatively large part of town and is sub-divided into Polermo Holleywood and Polermo Soho. We appreciated the amount of coffee shops, restaurants, and bars within walking distance but even more the vibrancy of the people who were in them. Almost every place was packed, especially after 9:30pm when people would sit down for dinner. Almost every place has sidewalk seating so you'll walk down the street and see twinkles of strung lights alongside people laughing. I'd liken the atmosphere to the East Village in Manhatten or the Haight in San Francisco.
We ended up doing a lot of walking across town. Every neighborhood has its own unique feeling. Some are more financial, others more residential, but there was at least one great place to sit down and pass time in each one. If you're planning a journey around the only place that I'd avoid is Monserrat. It had a strong feeling of consumerist tourism and wasn't really our speed.
The first thing I noticed around town were the trees. They create a thick folliage three stores high, so when you're looking down the bullivards you see the buildings disappear around you as the tree cover takes over. These are accentuated by big parks around town, offering lawns to spread out or stalls for merchants to sell crafts. The green space is noticeable.
Remote working
Based on some reading about the Internet situation in town, my expectations were set at dial-up speeds. Maybe even slower.
Most of my work is interacting with remote compute clusters so this is usually not the end of the world. But occasionally I do download some heavy data files on my laptop for local debugging, so this was a top concern when we found a place to stay. We might have lucked out but every apartment we stayed in had great wifi (~300mbs up/down). Most coffee shops have the same.
One of our apartments had a dedicated desk in the living room, which was hugely helpful in providing a space to work in. The other was a loft without much space for accessories so we ended up spending more time in coffee shops. We weren't the only ones to do so. Most Argintinian remote workers either did coffee shops or rented a coworking space. We weren't there long enough to take true advantage of these but we saw a few scattered around Polermo.
Conversion rate
In every place we've lived so far, the exchange rate is standard. There might be some fluxuations or "better deals" depending on the conversion store but the differences are marginal. When you're only paying for groceries, coffee, and the occasional dinner those percentage points are usually not worth the logistics of arbitrage.
Not true for Argentina. The government has relatively strict currency controls in place so they cap the USD/Peso exchange rate to about 1/150. The open market on the other hand doesn't think pesos are worth that much. This has led to a "blue market" for the Peso1. On the blue market the ratio is about 2x as favorable, so around 1/300 when converted from dollars.
Everyone that we talked to mentioned their money guy. There's a whole economy of trustworthy (and some not-trustworthy) brokers who will take USD and convert it to Pesos at the blue rate. For professionals that get paid in USD or have investment accounts abroad, this ends up being the main way that people pay and get paid.
As a result, everyone pays in cash in Argentina. I didn't see a single person take out their credit card during our trip, except for one guy that still had his luggage and paid with a Crypto debit card. I assumed he hadn't yet gotten the memo.
The food scene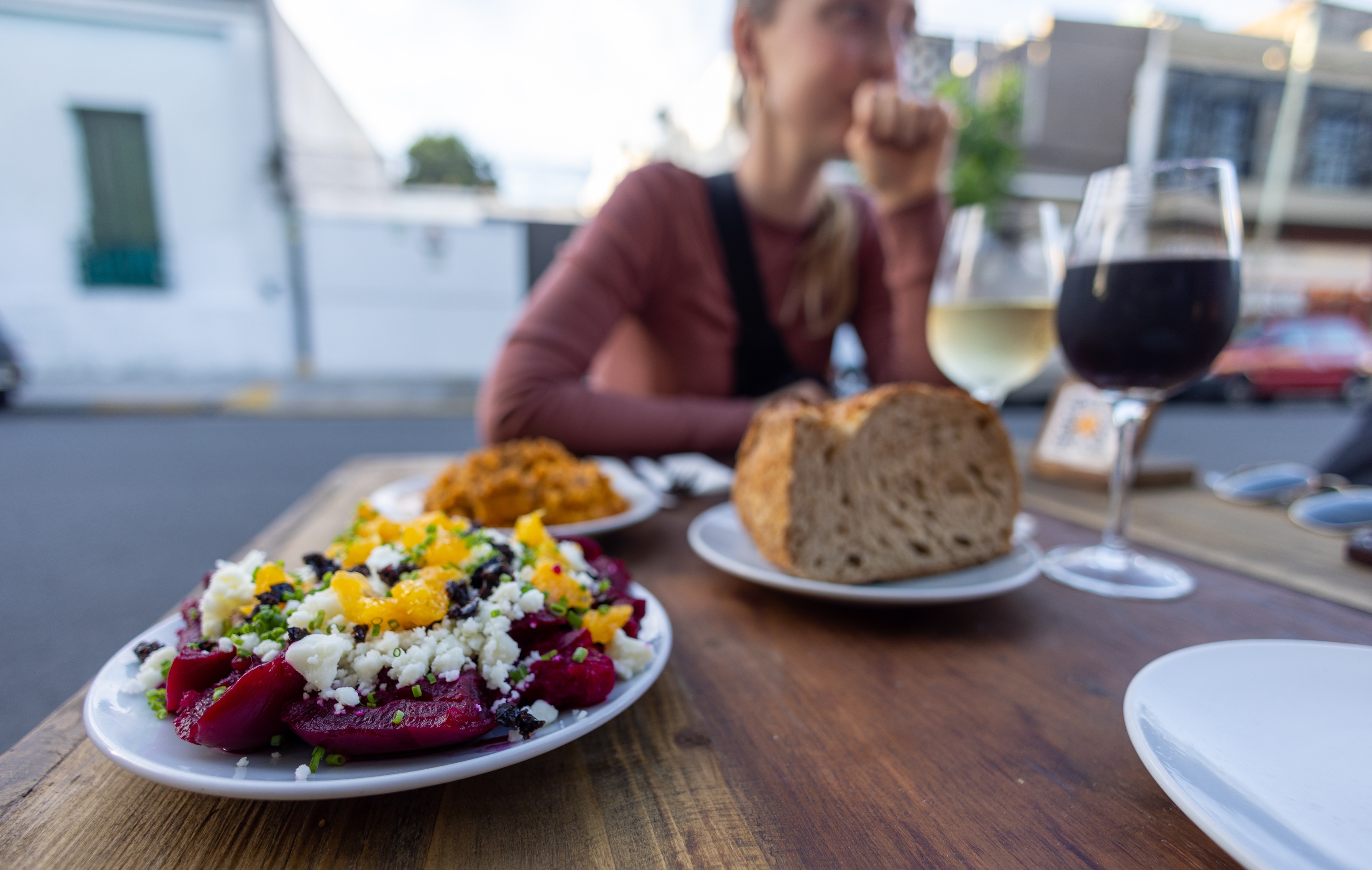 Choosing top spots is tough. We tried a lot of different places across a lot of different cuisines. Argintina is widely known for their meat of course but we were impressed by a variety of vegan options, pizzas, and tapas. Despite being around for two weeks, even on our last day we were adding new restaurants to the wishlist. Our much belabored top list of recommendations:
Chui: Almost everything on the menu is woodfired. Stand-out pizza, bread, etc. Great riccota dip, great hummus dip, great pizzas. The space sits in a courtyard brimming with trees and vines.
Naranja Bar: A wine bar in the proper sense. Very chic, cool clientele. They have a series of great house glasses or bottles. Almost everything is local to the region.
Mirutaki Ramen & Sushi: Standout ramen, nice and light. There's usually a line out the door but it cleared through relatively quickly. Going early when they open also helped.
Blanca Deco & Café: We stumbled upon this cafe by accident on our way to another coffee shop. It was close to our first apartment and became a near daily trip. Classic espresso options on the menu with various homemade pasteries. I recommend the Cardamom Bun.
Cuervo Café: Fantastic avocado toast with a balsamic spread. Most people were just there for the coffee but a few were there to work as well.
Argot Café: A bit of a trek but a good excuse to see the city. Great brunch, shakshouka, and pasteries. They have a nice outdoor patio for a sunny day.
I also ordered an empanada at nearly every restaurant that served them. I couldn't choose a favorite but if you like chicken, lamb, or beef I highly recommend this as a culinary exploration of the city. They're bite sized and give you a good sample of the different preparation styles.
World Cup
We watched the semifinals at a bar in Palermo. People pulled their cars to the curb to get out and check the score. By the time we watched the second half of the game, bus drivers rolled down their windows and started giving high-fives to people passing in the street.
The finals were streamed in public parks across the country. We went to our closest one and there must have been 50,000 people packed in. Every goal was cause for celebration or heartbreak, positive and negative energy just radiating through the entire crowd. By the time M'Bappe tied up the score and it went to overtime you could hear a pin drop.
Every penalty kick elicited joyous shouts but none more so than Gonzalo Montiel's final overtime kick. Once they scored the entire park went wild. Champagne spray fizzled in the air, old men cried, and friends embraced everywhere. And then everyone started singing and dancing. Y de la mano, de Leo Messi - and by the hand of Leo Messi - Toda la vuelta vamos a dar - we are going to go.
The whole city - really the whole country - came together in this moment. Given some of the internal stressors that we heard about this moment of unity was hard faught, well deserved, and hopefully will stick around a little longer than the games themselves.
Airport
Getting back home wasn't exactly the most relaxing of journeys but let my pain be your gain. We flew back to the states out of EZE, which is pretty far outside of the city center. There's another airport in-town that's far more convenient but it doesn't service many international flights. In rush hour traffic (5pm) it took about an hour and a half to get to the airport from Polermo.
American Airlines was in a state of absolute chaos in the terminal. A line of 400 people snaked around the building just for American, with about as many people in the security and custom line. They moved at a glacial pace (pun intended). I was standing around for two hours until my flight had finished boarding and was about to close the gate. I was fully convinced I was going to miss my boarding and sleep at a hotel in town.
At the last second an AA employee grabbed the remaining people in line and whisked us to the front of the queue. Apparently you're supposed to show up 4 hours ahead of time for a flight. Noted for the future.
And with that I settled into my middle seat for the long ride back home.
---
Seems to be a pun on blackmarket but blue for the color of Argentina. ↢