New Zealand
May 23, 2023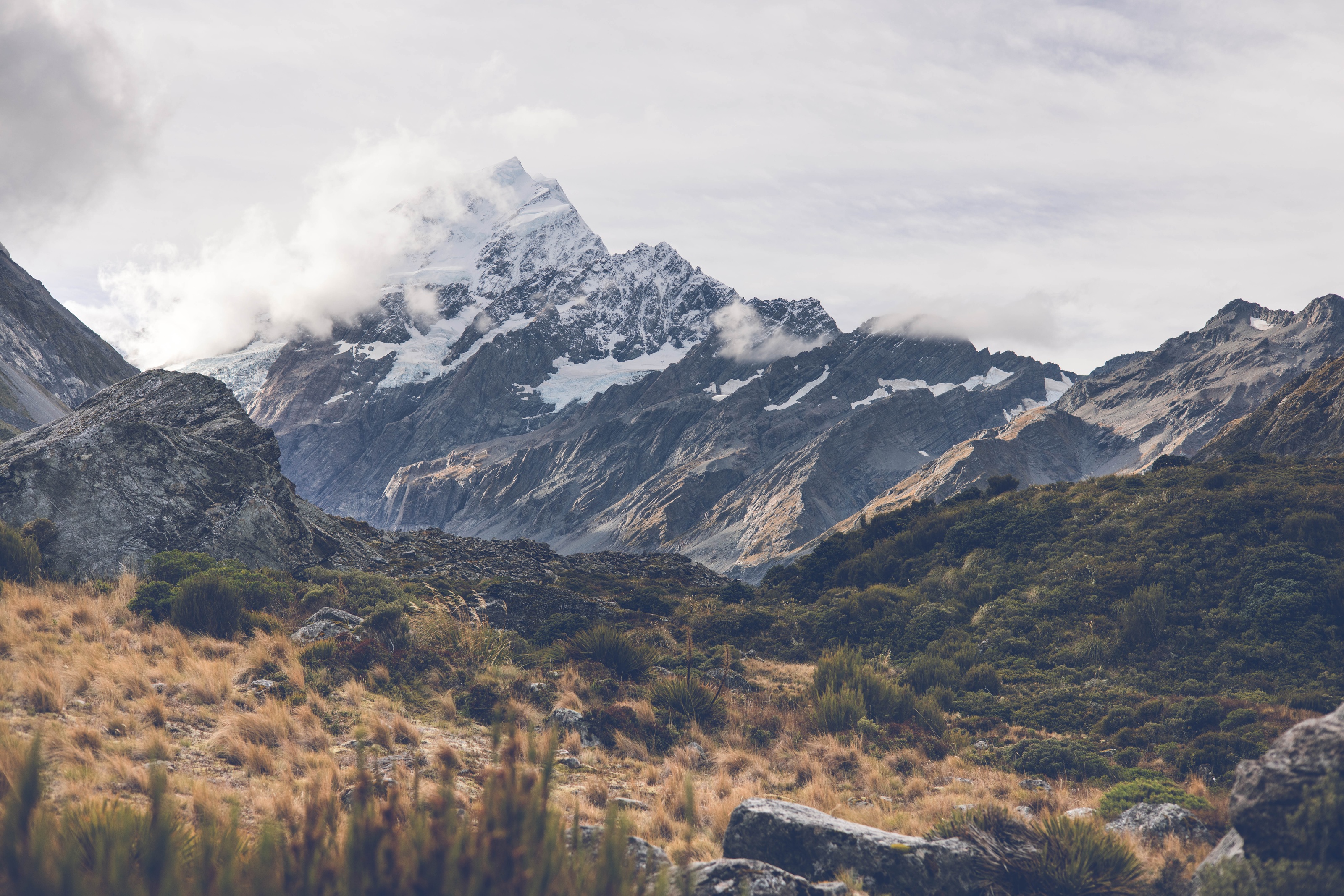 Ah, New Zealand. Home of Kiwis (the bird), Kiwis (the fruit), and billionaires from the Bay Area.
To be fair, I do see a deep appeal even outside of the apocalypse. New Zealand is a place where you drive two hours and go from snow covered peaks to tropical rainforest. The mountains rival the Alps, white sand beaches rival Hawaii, and rolling green hills with sheep rival... well, I think they might win outright on this count.
We spent a month in New Zealand working Pacific hours. That meant a Tuesday-Saturday schedule, 4am-1pm. During the weeks we picked cities to stay and work, as is typically our preference when we can do it. That left four more hours of sunlight for us to explore the restaurants, coffee shops, and attractions that were open during standard working hours.
On the weekends - or at least, our "weekends" - we rented a car and charted a course to parts more far afield. This landed us in some tiny towns on the north coast and south island where we could hike during the days and grab a small snack in the evenings. It was actually a perfect schedule; we got to overlap with locals on Tuesday-Friday and we got to avoid some of the crowds while exploring on Mondays.
Auckland
We landed in Auckland so it was a pretty natural place to stay for our first week. They have easy metro connectivity from the airport to the city - there's a quick bus connection and then one shot on their new subway system. They don't accept cash or onetime tickets so you'll have to buy a refillable pass at the airport. It was a no-brainer over taking a taxi.
The weather in Auckland was a bit dull during our time there - high winds and drizzle most days. We mostly just worked. But we enjoyed some walks on the pier around Viaduct Harbour and ventured downtown most nights for the heart of the food scene. If you enjoy restaurants, Auckland is the place to be. Most of the other towns we stayed in had some fantastic food options in them but Auckland has them nearly everywhere. Here were our favories:
Gemmayze Street - We went here the first night after our flight. The food was out of this world - the hummus and chicken skewers were particular call-outs. The timezone wasn't quite on out side though. By the end of the meal I was so tired my head was nearly in my bowl, so if you going to come through I'd recommend doing it once you're adjusted to the timezone.
Apero Food & Wine - Quiet and cozy wine bar. When we were there the bartender recommended the Cabernet Franc from Three Fates, a super small regional vineyard in Hawke's Bay. We never would have heard of them otherwise and it was one of the best glasses of wine we had in New Zealand. Get reservations ahead of time if you're going for dinner, they fill up quickly. 2
Shaolin Kung Fu Noodle - The most unassuming restaurant on a random industrial street, yet a clear favorite from the regulars that were there. Great, light noodles that came out quickly.
Bay of Islands / Kerikeri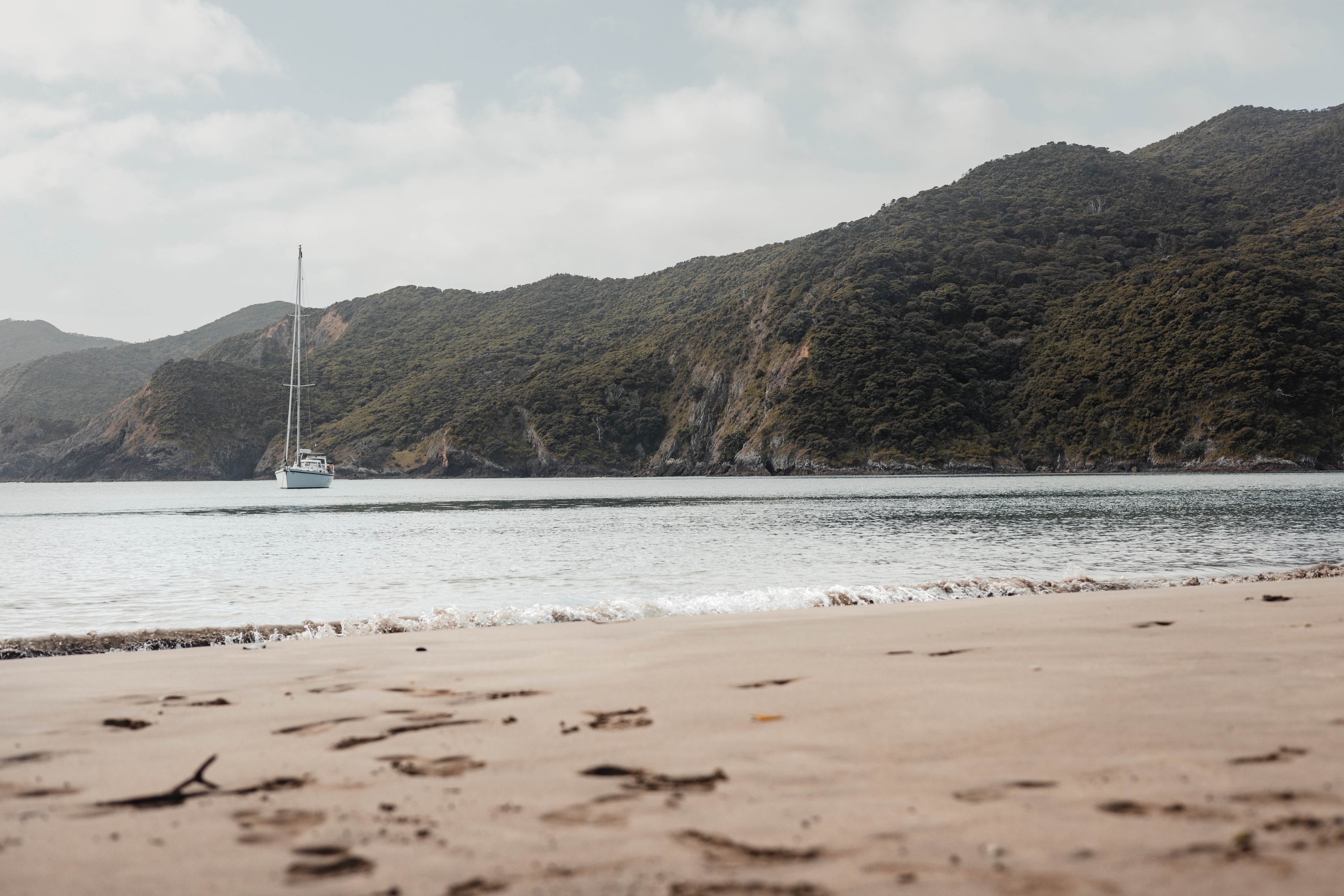 Kerikeri was our weekend trip from Auckland. It's a bit of a drive (3.5 hours) but by California standards really not that bad.
At least in theory.
We made the trip after our workday when it had already turned to nightfall. When we got half way to Kerikeri, we saw a huge detour sign blocking the highway and pointing down a winding country lane. Dutifully Google Maps redirected us into the switchbacks, winding hills next to jungle on our left and towering rock faces to our right. The road was more of a dirt path about the width of a car, where potholes a foot deep would jump out of the darkness. We joined a caravan of well equipped four wheel drive Jeeps and trucks with our miniature rental car. 3
We made it in one piece but I wouldn't want to see the shocks on that rental.
Sunday we started by going to Kerikeri's farmers market. There are actually two that happen each Sunday: one outside and one in the Old Packhouse. Naturally we went to both. Much like you'd have stateside, there were a lot of local farmers and pottery makers from the broader Bay of Islands. The market in downtown felt a bit more local and authentic; all of the people we talked to lived in the suburbs around Kerikeri and were doing their weekly shopping. We ended up in a lengthy conversation about raw honey and got an invite to visit the farm. I'm putting that in my back pocket.
We spent the rest of the day going to the vineyards near Okiato. There is a rich grouping of wine markers in this region of the North Island that specialize in lighter wines: Pinot Gris, Chardonnay, Syrah, etc. To get there you have to take a ferry from Opua; you can technically drive around the coast but the ferry seemed to be the de-facto way that people get to this peninsula. You drive on, they come around to ask for payment, and you drive off. We got up to stretch our legs and take in the views. It couldn't be easier.
Our first stop was Omata. We got there early and were the first people in the parking lot. The birds were chirping and flitting from vine to vine. There was a slight crisp in the air as the temperature was just starting to heat up for the day. And the view just took our breath away. We had panorama views everywhere, with forest jungle on our right and the bay with sailboats to our left. We sat down for a small tasting and had our pick of the tables. The wood fired pizza was particularly standout.
Monday was our outdoors day. We took a trip along the coast to Cape Brett. This is a popular 18km hike to a lighthouse at the end. You can stay overnight there and do the trail back the next day. We would have loved to do it - but we had a plane to catch back in Auckland.
We did a good quarter of the trail and turned back around for the car. We nearly missed the white sand beach tucked into the base of the mountain range. We stayed there for half an hour and didn't see another soul. Despite the trek's popularity, we only saw three other people on it.
Queenstown
To get to South Island you can either drive and then take a ferry from Wellington or fly in from another regional hub. Since we were in the most Northern part of the North Island we opted to fly. That meant driving back to Auckland after our hike and getting on a Jet Star flight to Queenstown4.
We stayed on the outskirts of town. Most of the houses are situated on a hill overlooking the lake, which meant that we got to wake up to the sun rising and shimmering over the water for most of the day. There was also a perfect walking path right by the lake to go from our apartment to the downtown. It was a good setup for a week of working - plenty of space, a good kitchen, and great views.
I found downtown Queenstown to be a bit off-putting. There were a lot of stores, and a few good restaurants, but for the most part things seemed to cater to lake tourism. Nearly everyone who we met were from out of town5. The locals that we did find mentioned that many of them were getting priced out of Queenstown, both because of tourism and people building mega mansions along the lake.
Next time I'd probably skip Queenstown, but if you're going to go here were our favorite places:
Bespoke Kitchen - Great smoothies and a nice outdoor space to share a coffee. Shaded with trees on a nice sunny day.
Kiwi Encounter - A birdlife preserve situated in the hills of Queenstown. We swore we would see at least one Kiwi while in the country and this was our surefire opportunity. They have a full Kiwi nursing and rehabilitation program and you can see some of them in a custom build nocturnal enclosure. It was surprisingly cool.
Raeward Fresh Queenstown: We stumbled upon this grocery store on our last day in town. Great food selection, freshly baked bread.
Invercargill / Catlins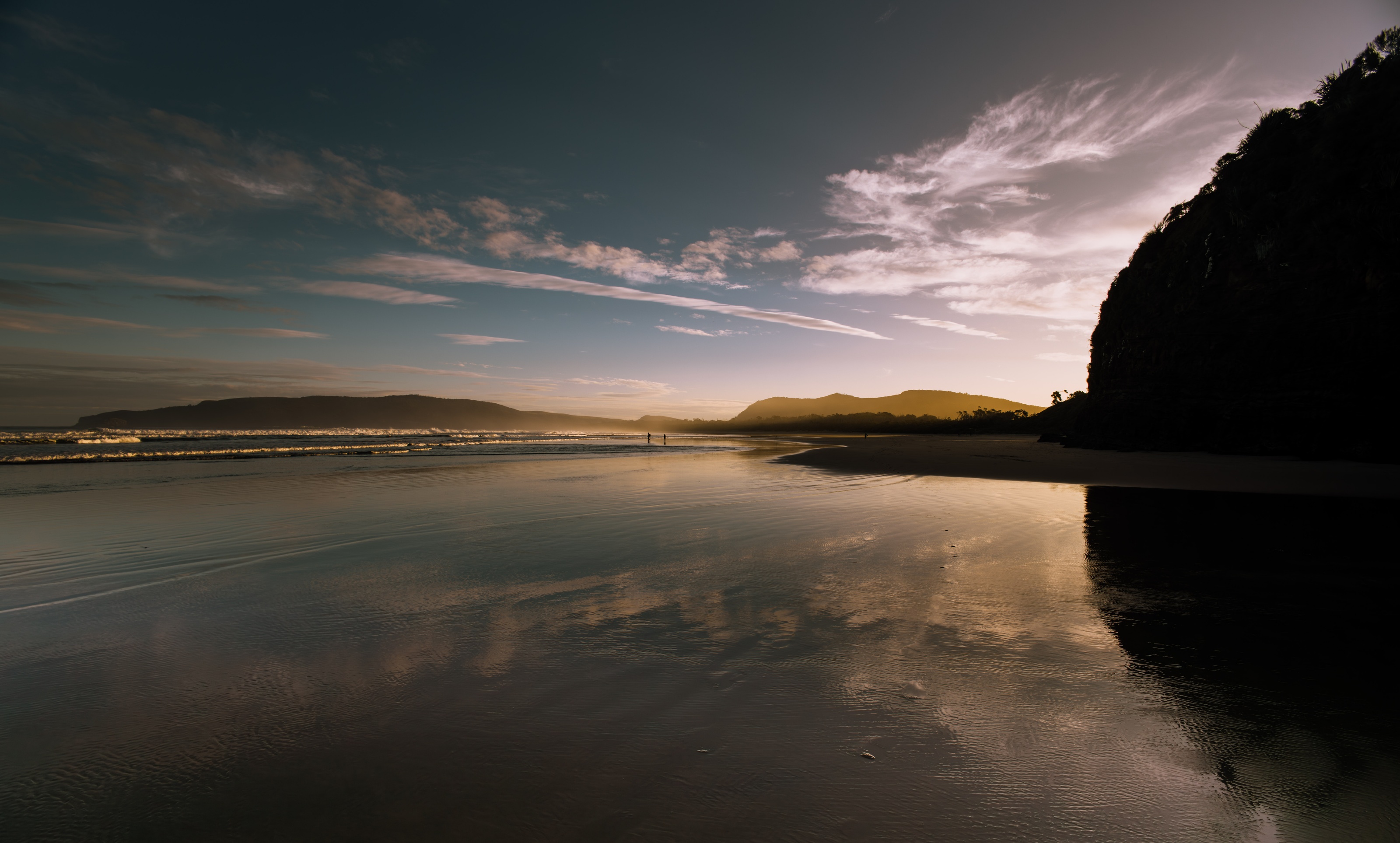 Invercargill has the distinction of being named one of the bleakest places for young people. When we told one local we were headed there, they had no recommendations and could only muster a "But why?"
We didn't quite find that the case. I'm advocating for a rebrand more along the lines of Invercargill: The Gateway to the South. There's not a lot to do in Invercargill but there's a metric ton to do around it.
We spent one day exploring the Catlins, a region teeming with some of New Zealand's most striking beaches. We left our day totally open and un-programmed. We picked one of the main roads that takes you up the coast and spontaneously stopped whenever something caught our eye. We started on a trail that led us to two towering waterfalls. We walked over a few streams and next to packed jungle. From there we hopped from beach to beach, walking miles along the sand. You can't go wrong anywhere.
I don't know the names of the beaches we went to - perhaps they don't even really have names. But we did make a stop at the Cathedral Caves to round out the day. These are the famous, huge caves that face the ocean. They were certainly more tourist-heavy than our empty beaches, yet they retained an air of tranquility amidst a few groups of visitors. We chased the sunset back to Invercargill where it went from yellow to orange to deep pink as it lit up the sky.
Our second day was dedicated to a tour around the Doubtful Sound. Of the 'Sounds, you'll probably hear about Milford. Doubtful is much harder to get to - you need to take a boat and a bus just to get to the cruise. It also only hosts a single cruise per day, so the only boats on the ocean are you and a bunch of fisherman. The only way to get around is via that one boat; they don't offer any other tour types or tour companies with a permit. We nearly didn't get a reservation because their schedule was so tight.
I appreciated that once you're on the cruise, you're not overprogrammed. The let you sit back and just enjoy the surroundings. A lush tapestry of trees and moss grow on the mountains, so there are only trees and water as far as the eye can see1.
There are a few pods of dolphins that live in Doubtful, but cruises aren't allowed to explicitly look for them. They can hear boats idling, however, and apparently quite enjoy coming up and saying hello. When we were there they stayed around for a few minutes, swimming around the boat, and eventually taking turns riding our wake once we moved along. It's one of those things where documenting it will never do it true justice: The mountains of Doubtful, green trees on all sides, framing three dolphins leaping out of the blue water. It was stunning.
Overall my impression is that both Doubtful and Milford Sound were a bit over-hyped. They were clearly amazing and beautiful in their own right, but there are so many other places in New Zealand that are just as beautiful. The dolphins made our trip worthwhile but you can't count on those every trip. I'd consider going to one of the Sounds if you're in the area, but don't make it a priority.
Wanaka
We stayed in Wanaka for our next work week. It's an uncommon destination, but we found it the perfect place to focus while maintaining some great outdoor time. There's a small downtown strip with a huge park to its side and a beachside walk.
Thankfully they also had coffee. We had run out of our ground stash by the second morning so I waited until 7am and headed to a local bagel place. It was in a small cropping of food trucks with soft lighting and a gentle stream in the middle. As I turned a corner coming back home, the fiery orange and pink hues of the sunrise lit up the sky, reflecting off Lake Wanaka and nearly made me drop my bagel. I can count the times I've seen a sunrise like that.
Walking through the town, the flowing stream added a melody to the quiet hum of the town coming to life. Wanaka was subtly different from the other places we had visited so far - smaller, yet bustling with its own character. We closed most work days with walks around the town. There's a path that goes around the perimeter of the lake, past rolling fields and beautiful homes.
For the most part, we cooked at home. But we did a self proclaimed "Tapas Tour" on our last night in town. We hopped from restaurant to restaurant and asked for their best small dish on the menu. The food knocked it out of the park.
Charlie Brown Crepes - A small French-inspired food truck. Its rustic charm, combined with the smell of crepes and strong coffee, made it a regular stop for us before walking alongside the lake. With crepe in hand if you squinted - fine, maybe closed your eyes - you could imagine you were on a different continent.
Dripping Bowl - Fresh acai and grain bowls in a food truck outside. Next to a bulk grocery store that specialized in no food waste packaging.
Arc - A key stop on our tapas tour. Chatty waiters and great specials. The atmosphere was lively but cozy with warm light and thoughtful decor.
Mount Cook / Peel Forest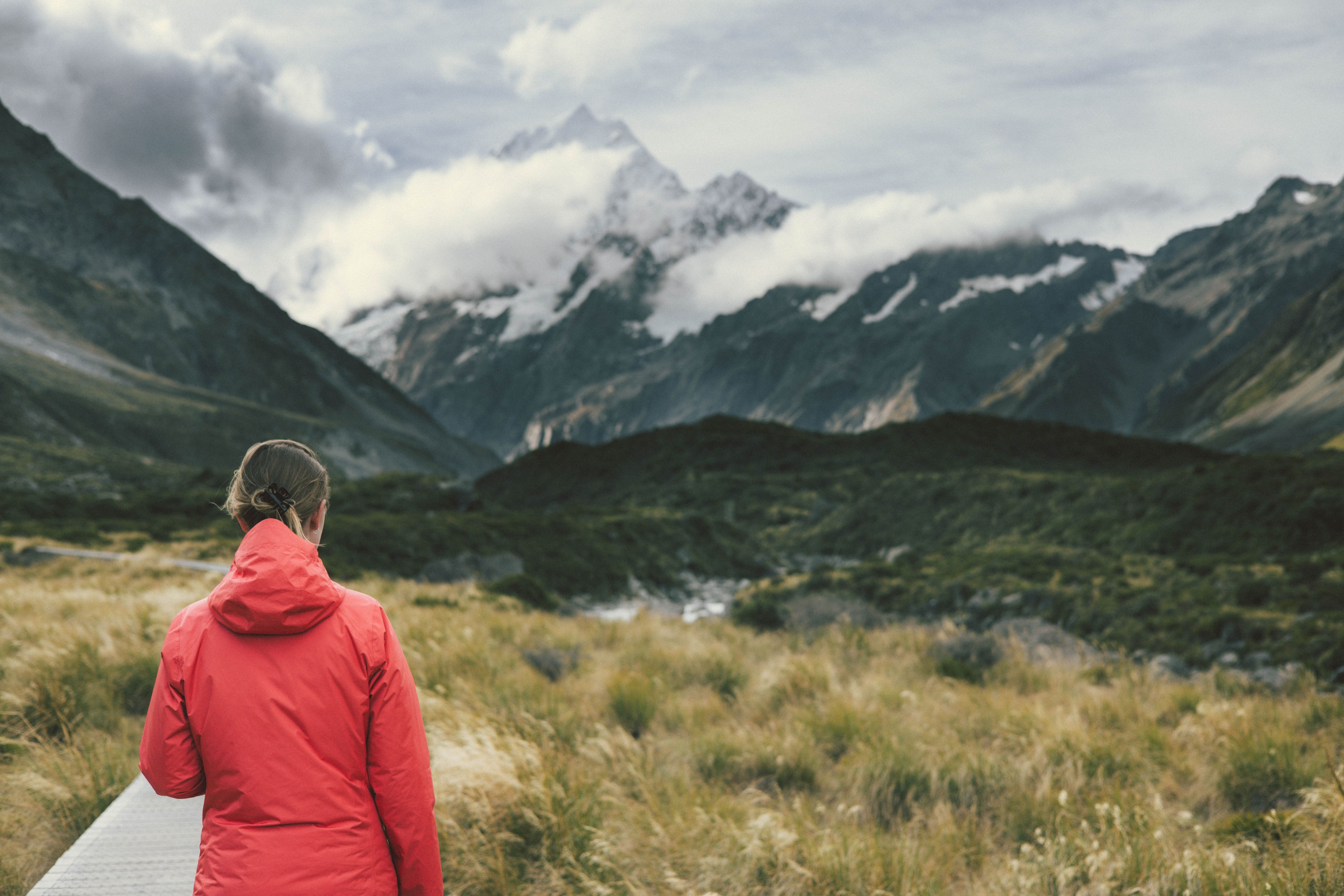 On Sunday, we walked around Mount Cook6. There are a lot of different trails to do with different grades of difficulty. This led to a rather eclectic group of people on the main trailhead: everything from white silk skirts to sweatpants and hiking poles.
The Hooker Valley Track is by far the most popular. It's not exactly a hidden gem but it is worth the hype. You stroll through green valleys, waterfalls, and marshlands before reaching Mount Cook framed against the horizon. Clouds would flirt across the cliff-face but never fully cover it. We crossed three swing bridges, each offering a sweeping view of the valley below and the lofty peaks above. Despite the crowds at the start, we felt relatively alone once we were there.
On Monday we went to the Peel Forest and had a more proper outdoors day with the Fern Trail and the Big Tree Walk. We sank down in shoe-deep mud, battled back ferns, and faced some rain in-between the tree cover. But we also had birds chirping while flying from tree to tree in towering native vines. If you get rainy weather, I'd recommend taking a moment in the effort of it all to let a few raindrops fall on your face as you look up towards the sky.
We stayed at Ngā Whare Mānatu for the evening. This place deserves a special mention. There are only four rooms on the property and they're all separated by a field in-between. You feel like you're in your own world. Each cabin was designed with floor-to-ceiling windows, providing uninterrupted views of the rolling pastures that greeted the sunrise. And the hand-poured hot tubs outside each cabin were a perfect way to unwind under the starry Southern Hemisphere skies. Because it was off-season, we were the only people there and the rates were a bit more affordable. Perfect for a single night of relaxing, probably not for a longer stay.
Christchurch
Christchurch is the major city on the South Island, so I was expecting a place like Auckland: a lot of sky scrapers, good metro connectivity, and a vibrant food scene.
Much like Los Angeles, Christchurch displays an urban sprawl that stretches across the Canterbury Plains to the Southern Alps. This expansive layout heavily changes the city's transportation dynamics. Instead of opting for public transit or walking, Christchurch leans heavily towards cars. We didn't have a car for this leg, so we walked everywhere and rarely crossed paths with anyone else. This held true even on days when the weather seemed tailor-made for a leisurely stroll. Open spaces and parks were mostly deserted even under a clear blue sky.
The city's sprawling nature also impacts the distribution of buildings. A supermarket would border a boutique café, which would sit next to an automobile showroom. The lack of zoning uniformity meant each street - let alone each district - had its own unpredictable character.
Despite its oddities, Christchurch did live up to one of our expectations: the food scene. The city's culinary offerings were indeed vibrant and diverse. Whether it was the hole-in-the-wall bistros, cafes, or wine bars, the quality of food across the board was excellent.
Child Sister - Packed on weekends, the same great food without a line on weekdays. Portions are surprisingly large so I'd recommend starting with one between two people.
Vesuvio Wine & Jazz - In the most unassuming, and in some ways random neighborhood. After passing a hotel and Burger King to get there and I was really questioning if we were in the right place. But this cafe is nestled into a secluded inlet from the rest of the city. There's a small outdoor patio and an intimate interior. Their walls are tiled with different comics about New Zealand and Australia. I only understood a few of them.
Kaikoura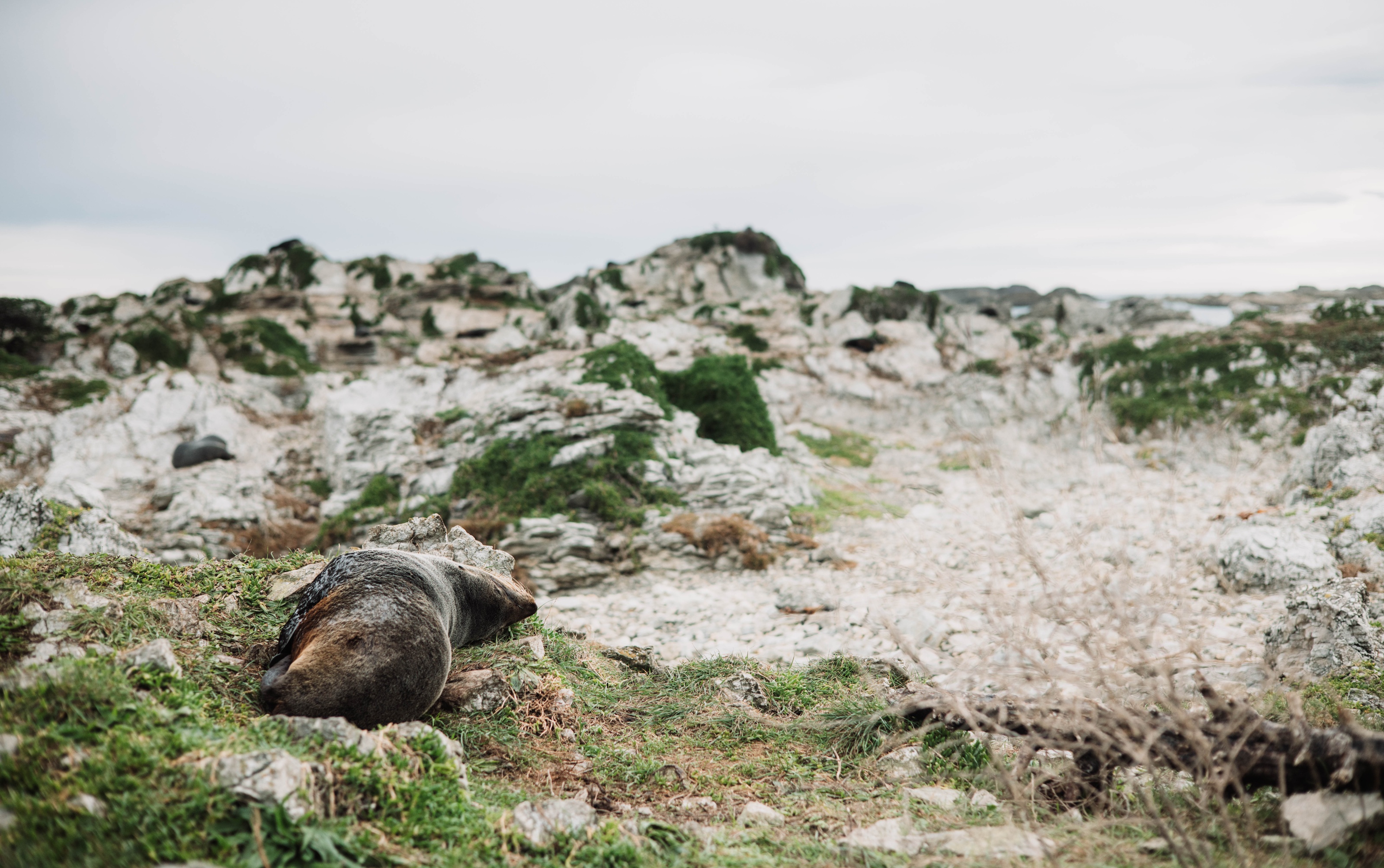 Our last weekend stop was the coastal town of Kaikoura, renowned for its extraordinary marine life and beautiful seaside trails. The key attraction of our stay was the Peninsula Walkway, a well-structured track that winds around the headland, offering a blend of stunning coastal and mountain views. It's been a joint project between the local counties to restore some of the native ecology.
We spent most of our time on the beach or doing hikes. On one side, we had the vast Pacific Ocean, with waves steadily eroding the limestone cliffs, creating an ever-evolving coastline. On the other side, the towering Kaikoura Ranges, part of the Southern Alps, majestically dusted with snow even in the early fall. Seals were scattered across the landscape, basking in the sun and occasionally diving into the water to go fishing.
Along the Peninsula, we navigated through stretches of cobblestone beaches, native bush, and open grassland. From the top you can see all the different New Zealand geographies touching one another. The coastal beaches touch jungle, which fade away in the mountainous alpine mountains.7 We caught this range right at sunset as the sun dipped behind the mountains and saturated a purple sky.
Aside from the nature, for food, here were our recommendations:
Asian Taste - Food truck right outside of downtown. The owner of this place was indefatigable. She was managing at least twenty different orders when we were there. Joking around the whole while.
Hiku - A relatively new restaurant in Kaikoura. Every dish had some of the freshest ingredients we had on the island, with a particular focus on locally caught seafood. Their bar for quality was outstanding.
Flights
Air New Zealand deserves a special mention for their quality and professionalism during our flights from San Francisco. We took a 787 to New Zealand - it was spacious, the flight attendants were lovely, and it was actually a pretty meditative journey. Not easy to say for a 12 hour flight.
On our way back, we faced some mechanical problems with the plane which caused a five hour delay. Despite this - and despite half the plane having connections they were surely going to miss - everyone stayed calm, understanding, and the crew was apologetic throughout. This included a cameo appearance by the pilot who gave a brief TED talk about how air pumps work on the gate intercom.
Our delay also leads me to highly recommend the Strata Lounge in the international terminal. You can get in with most major travel credit cards; and even then I'd say if you have a long delay, it's worth the price to pay out of pocket. It's huge, has a lofted view of the terminal, and the buffet food could have come from some of the best restaurants we ate at.
Conclusion
We risked the weather a bit based on the season. We went from April to May, which is right in the middle of their Fall season. The average forecast is usually cloudy with some rain yet we lucked out on most days with clear skies and sunshine. I imagine the seasonality also did a lot to ward off crowds even at the most popular destinations. This gave us effectively private hiking trails and weekend excursions. But still - all else equal the springtime or summer is probably a safer time to go.
Some other miscellaneous take-aways:
New Zealand is big. Way bigger than you might think if you're just looking at a map. It'll take you 28 hours to drive from the north tip to the southern tip (including the ferry in the middle). Some of this is because of the speed limits on roads; most of it is just because of its size.
Almost everyone outside of Auckland has a car, and you really need one if you're going to get around the country. Smaller cities have some urban sprawl. And the really amazing nature is so close to major cities but you'll still need a car to get to most of them.
We had as much fun pulling off on the side of the road to visit a town or take a walk as we did on our better planned activities. We passed by a random sign to pick our own strawberries and ended up eating some of the best ones I've ever had. This is New Zealand at it's best. If you can schedule in some spontaneity to your travels, I'd certainly do it.
We embarked on this trip having a hunch we wouldn't see half of what we wanted to. This prediction certainly proved true. But I have a hunch that even if we stayed for another two months, we still would have things unchecked on our bucket list. For all the places you'll go, you'll meet people that will recommend another town, another waterfall, another spectacular view. That seems to just be New Zealand's ethos; a country that unfurls larger the closer you try to inspect it.
I hope to be back soon.