Dolomites
March 7, 2023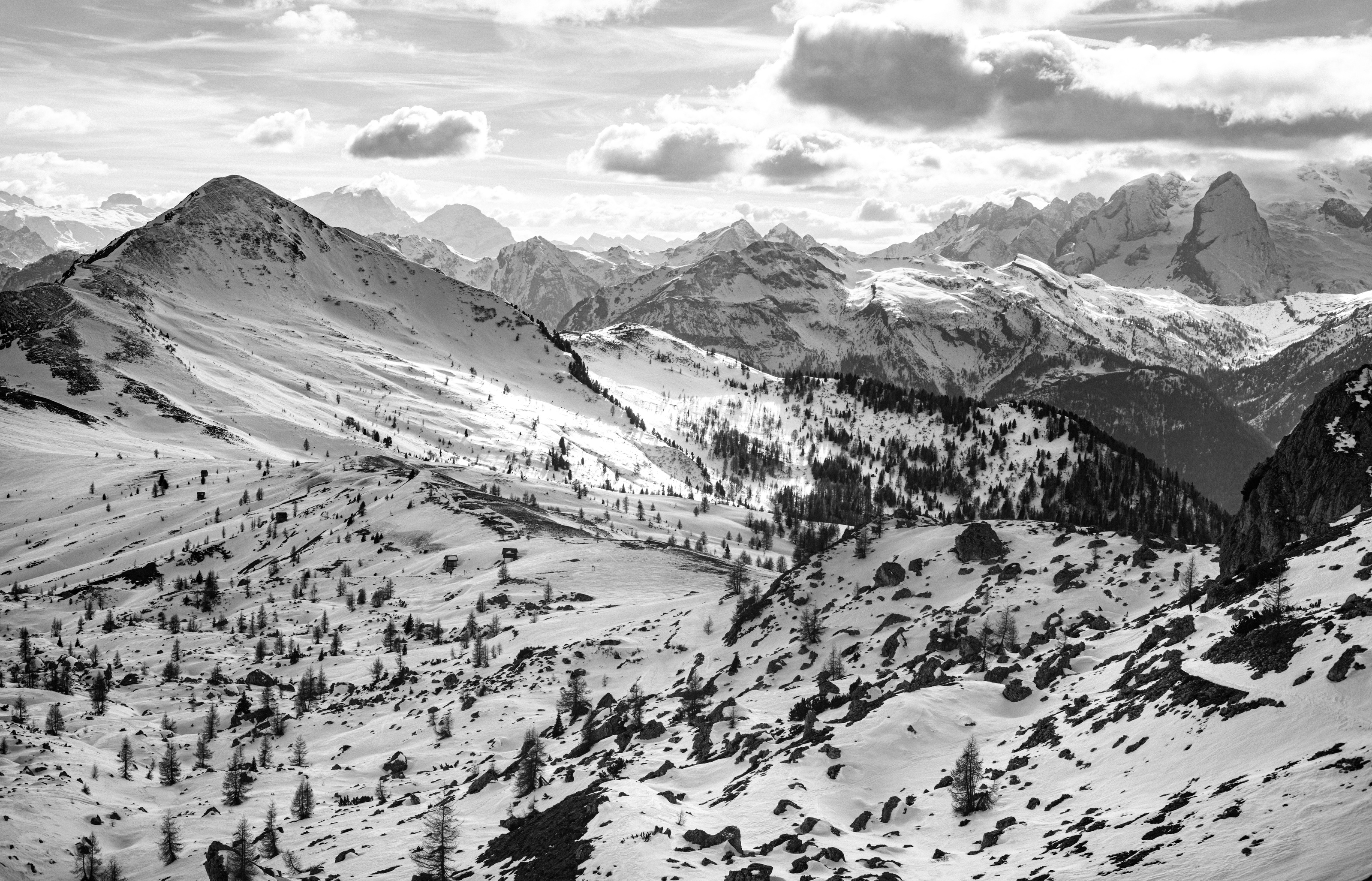 I headed to the Dolomites for a week after learning how to ski. By most objective measures it wasn't a great year to do that. But our flights were booked and we perservered. Worst case we'd get some rolling green hills. Best case we'd actually strap on our skis and do some runs.
The day before we left home, I was talking to someone from the UK who was in Tahoe for the week. He was in London on Sunday and heard that the Sierra Nevada snow was so good that he put in for PTO and flew out to Reno on Monday. When I mentioned my own plans to swap the California slopes for Italy, he fought back a laugh and wished me luck.
We would see.
Skiing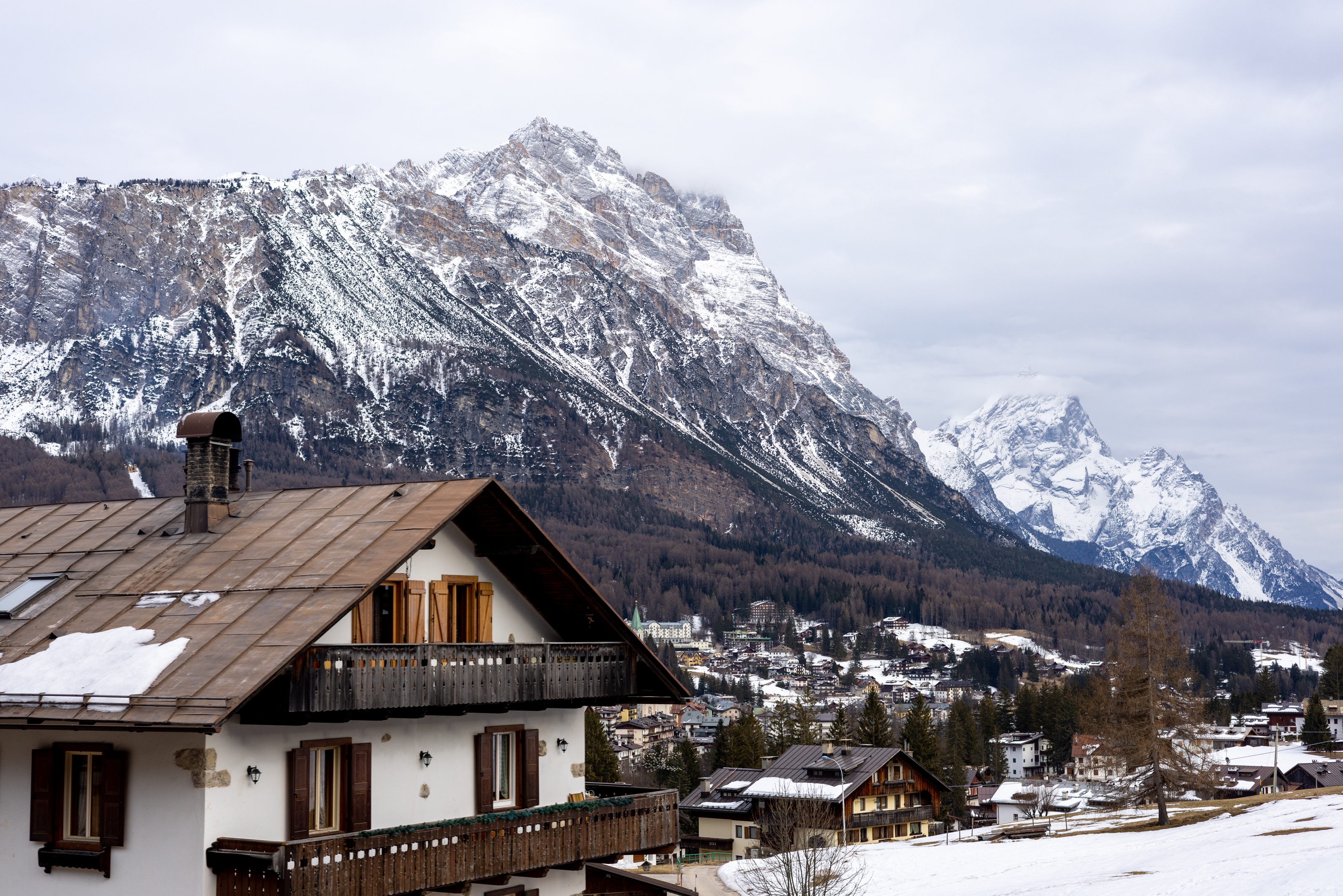 Skiing in the Alps has a different pace than California. Groomed runs are the main focus, versus the off-pieste stuff that fill the dreams of West Coast skiiers. The runs are also way longer, often up to a few miles as you're traversing different mountains. Lunch usually involves enjoying a full plate of pasta on the mountain for a few hours, then skiing down towards the end of the day.
I can't overstate how massive the Dolomites are. Dolomiti Superski is a consortium in the truest sense of the word. It connects 12 separate ski resorts, each with different branding and spanning a few mountains each. It's so big that each report map only includes the neighboring 4 resorts; mapping the whole region would take a map six feet tall.
Despite the size you can get from any place in the region to the other with some combination of skilifts and busses. But just because you can get anywhere doesn't mean you should. Lifts generally close around 5pm so it was often a race against the clock to traverse back home. On a few days we got stranded in another ski resort and had to call a taxi to take us back. My general take is to pick one or two resorts and spend most of the time there. If you feel inspired by another region, drive there in the morning and head back once you're done.
Here were our favorites:
Sellaronda: One of the more famous runs in the Dolomites. It forms a loop that traverses around the central mountain, so you can end up where you started by the end of the day. Going clockwise is the orange loop - counterclockwise is the green. We found the green route to be way preferable to the orange - fewer lines, better runs, and you can still see all the spectacular views.
All the routes, turns, and lifts are pretty well demarcated even without a map. As long as you can spot the right Sellaronda Green sign, you're well on your way.
Great War Tour: We found a few references to a tour around the Dolomites that tracked some historical events of World War I. It also ended with a horse drawn ski lift where you grab onto a rope and let it carry you to the next resort. That alone seemed worth the effort. The GWT was also a convenient excuse to explore more of the resorts by giving us a path to follow - but it overlapped pretty significantly with the Sellaronda. There wasn't actually much novelty and more busses required than I'd like. Next time I'd skip it.
Cortina d'Ampezzo: This resort had steeper runs and stellar views. While some of the other ski towns were looking up at alps around you, this one is high enough that you look down on the surrounding mountains. It was incredible - and also seemed to have more snow that some of the others.
Accommodations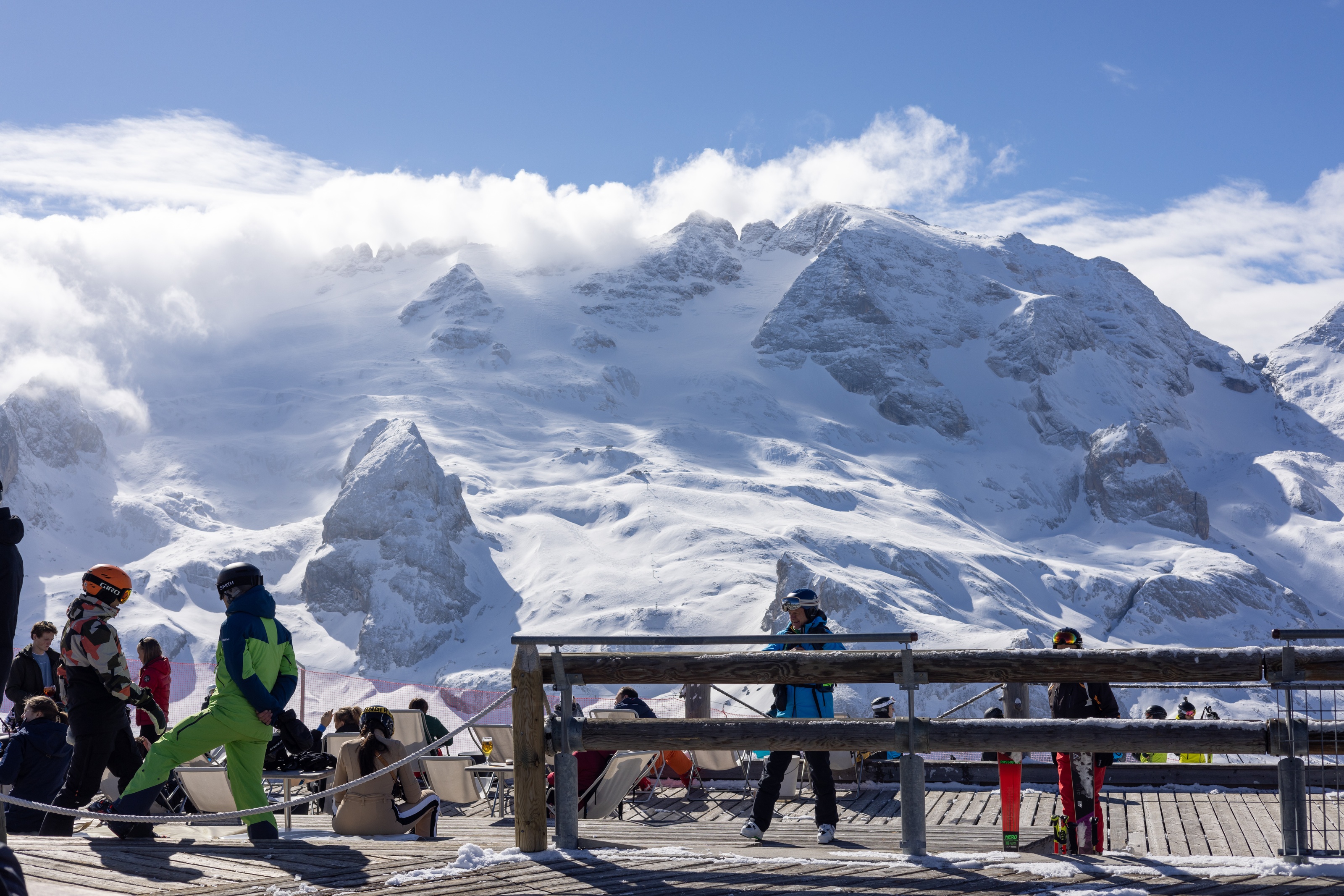 A lot of ski resorts are embedded into the towns that dot the countryside. It was pretty normal to have a ski slope next to the road, so you could either drive into town or ski from somewhere else. This meant that hotels are usually across the street from a chairlift that can get you on the mountain. There's no need to drive, suit up, and get on a shuttle. You change in the hotel and walk outside.
We stayed at Plan De Gralba, which is right next to a slope that connects to the Celeronda. It had a small downtown that had a few options for dinner and apres. It got pretty quiet after 8, most people were early to bed and early to the slopes.
Hotels typically come bundled with breakfast and dinner (half-board). We found a solidly midtier option, so my expectations were roughly at the level of a classic Marriot buffet. But I was blown away by the quality. Dinners were white tablecloth where all the staff changed out of their daily clothes into tuxedos to hand-deliver our meals.
We learned on the last day that the hotel included a bus pass to the region. We had been struggling to find an ATM for the whole trip so tried to avoid the busses. Lesson learned just a little too late.
Food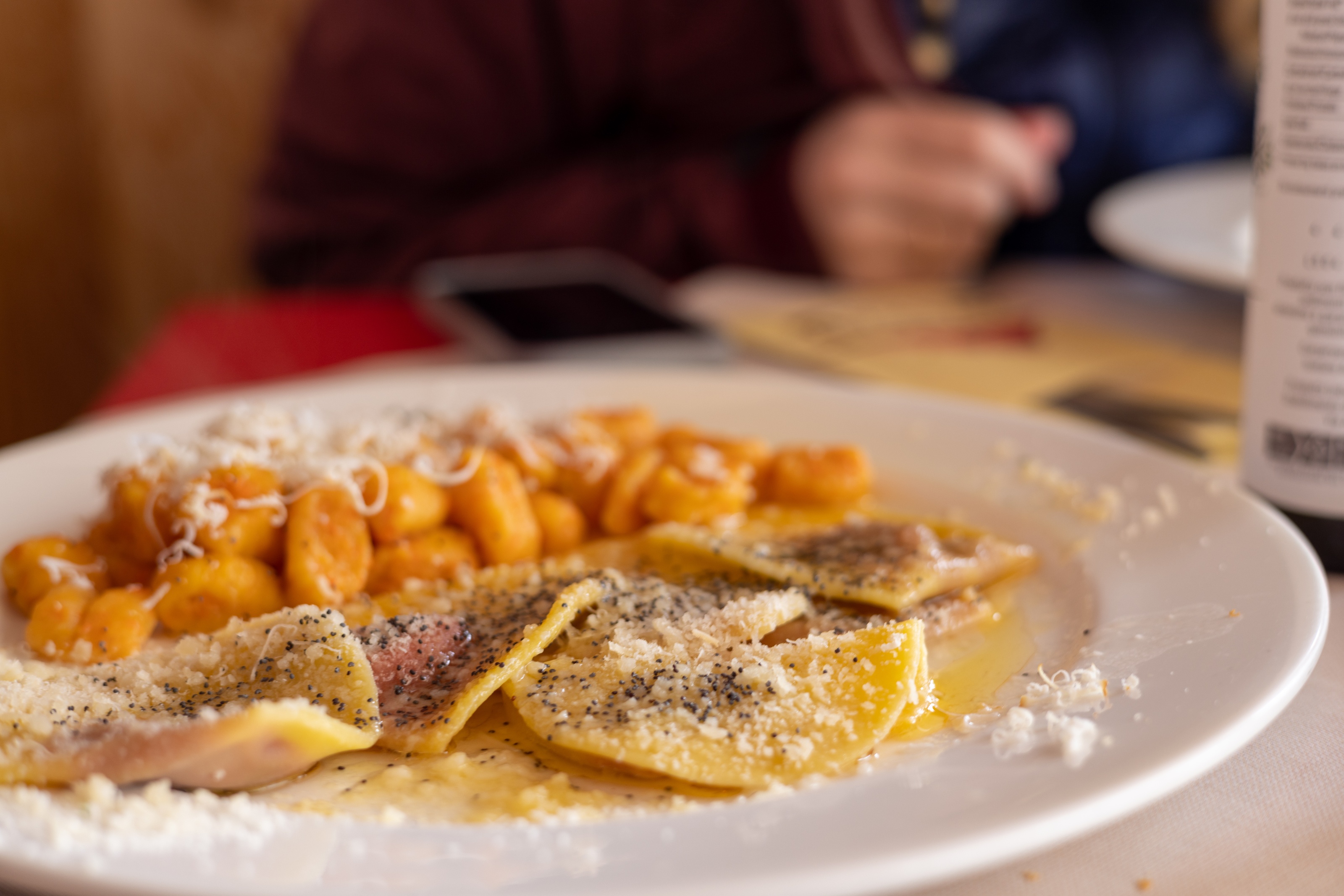 I mean look at this plate of pasta. Need I say more?
Fine I will.
Most of the restaurants are right on the mountain, so you'll be cruising down a run and pass right by a refuggio that has lounge chairs for the views and a full kitchen in the back. Most people ski down (which was crazy considering the average wine consumption that we saw around us) but some people also download on the gondala. Here were the top three places we went, but you really can't go wrong:
Chalet Vallongia: Separate dining room, amazing recommendations by the restaurant. Communal tables of people eating and laughing.
Rifugio Averau: Great pastas, especially the ravioli (see above). We got a lot of plates and shared most of them, which was the right call. Every flavor was really unique - no two had the same sauce or filling.
Il Vizietto: Really small and intimate place. Great carbonara. One of the only places where you have to make sure to get a reservation ahead of time. We went there on a weekday and they were turning people away at the door.
Conclusion
Some of the people who live in Italy went so far as to apologize to us about the conditions in the Dolomites. "It's not usually like this," "you all are getting such bad conditions," etc. That may well be true. But even with subpar snow it was still out of this world. The food, the views, and the people were a rare blend - especially for a place where you can spend most of your time outside doing something that you love. I can only imagine how crazy it must be in a year that gets normal snowfall.
Fingers crossed for next season.