Amsterdam
August 22, 2022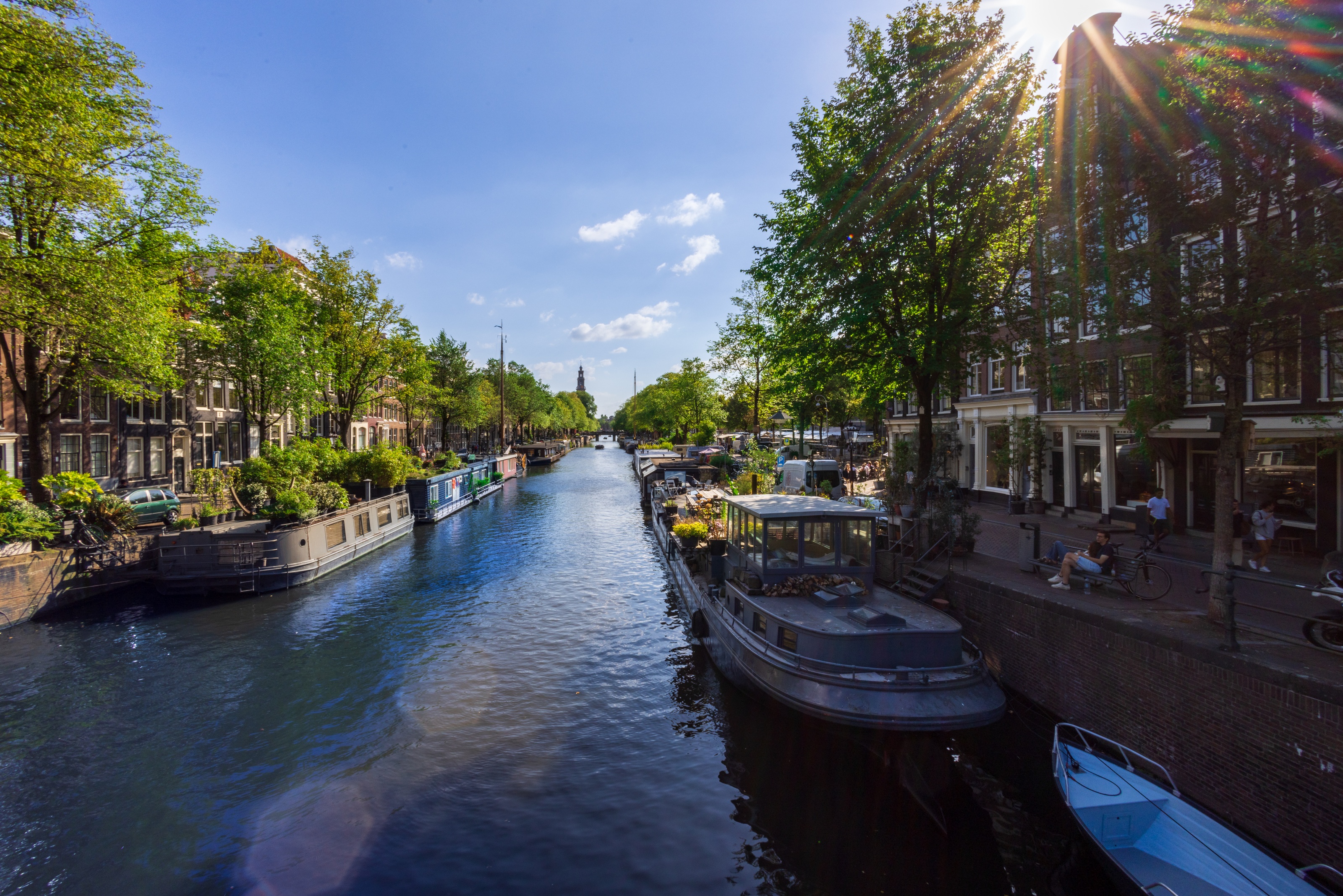 Amsterdam was only a quick layover on our way from Paris to Copenhagen. We were there from Friday night to Monday but it packed an outsized punch. Blue skies, blue canals, and some of the best food we've had so far.
Paris to Amsterdam
The train from Gare du Nord to Amsterdam Centraal should be an easy one. It's three hours door to door. And unlike airports this summer, there's just not much that can go wrong. You show up, you get on a train. It's a pretty deterministic process. We still arrived a safe twenty minutes early just in case something went sideways on the way there.
We needn't have worried. Our train had no assigned gate ten minutes to departure. Five minutes to departure. Some tourists - bags full of gifts from the Bon Marche - ran from train to train checking if it was bound for Amsterdam. Then an announcement that Thalys canceled the direct to Brussels and consolidated the Amsterdam and Belgian trains. Mayhem ensued.
Hundreds of people gathered around the gate that presumably had our train. The time for departure came and went. Still no official gate. We pieced together that the delay was caused by a previously stalled train and settled in for a long wait. Looking as serene as weary travelers can, we seemed authoritative enough for a gaggle of groups to approach us and ask for the train's status. Maybe I have a future as a train conductor. And Thalys - my timesheet is in the mail.
Once we got on the train, we were able to settle down a bit. I really love European trains. All the cliches are true. They're quiet, efficient, and spacious. Not this one. As we approached Rotterdam, a conductor came on the phone to announce a cancelation the remaining stops so the train could get back to Paris. The man seemed very stressed. On the bright side they offered everyone lunchboxes. We opted for a dinner in town.
It also wasn't a big deal. The local train from Rotterdam to Amsterdam runs pretty frequently and was easy to hop on once we made it to the station. A quick forty five minutes later and we were jumping off in Amsterdam.
Living
Since we only had to take a few zooms from Amsterdam, we opted for a hotel instead of an airbnb. The airbnbs in the city are wicked expensive and we didn't need much space for this leg of the trip. We stayed at the Student Hotel on the outskirts of town. Contrary to the name this place isn't just for students. We saw grandparents checking in. And the price was right; about $120 a night when we booked on hotel tonight.
Amsterdam is a very trendy city. This hotel was no exception. Exposed cement, pantone couches in the lobby, an adjoining coffee shop. That same aesthetic can easily turn forced when cheaply reproduced elsewhere. There they did it well. I spent my mornings from 7-9 working in the cafe as I got a bit of work done. I could have spent much more time there if the rest of the city wasn't calling.
We were surprised by just how many people we knew around the city. An ex-coworker here, a college friend there. There's a huge expat community and it makes a lot of sense. Everyone we spoke to around town is bilingual and gladly switches from Dutch to English depending on their audience. We were lucky enough to hang out with some of these friends over coffee and croissants. They all love Amsterdam.
Top pitches were for the city's accessibility to most of Europe. Paris, Berlin, London, even Zurich are pretty easy journeys. It's a slower pace of life when compared to other US and European metropolises. There are a lot of corporate opportunities, especially in design forward companies. And the bikes. People love the bikes.
Biking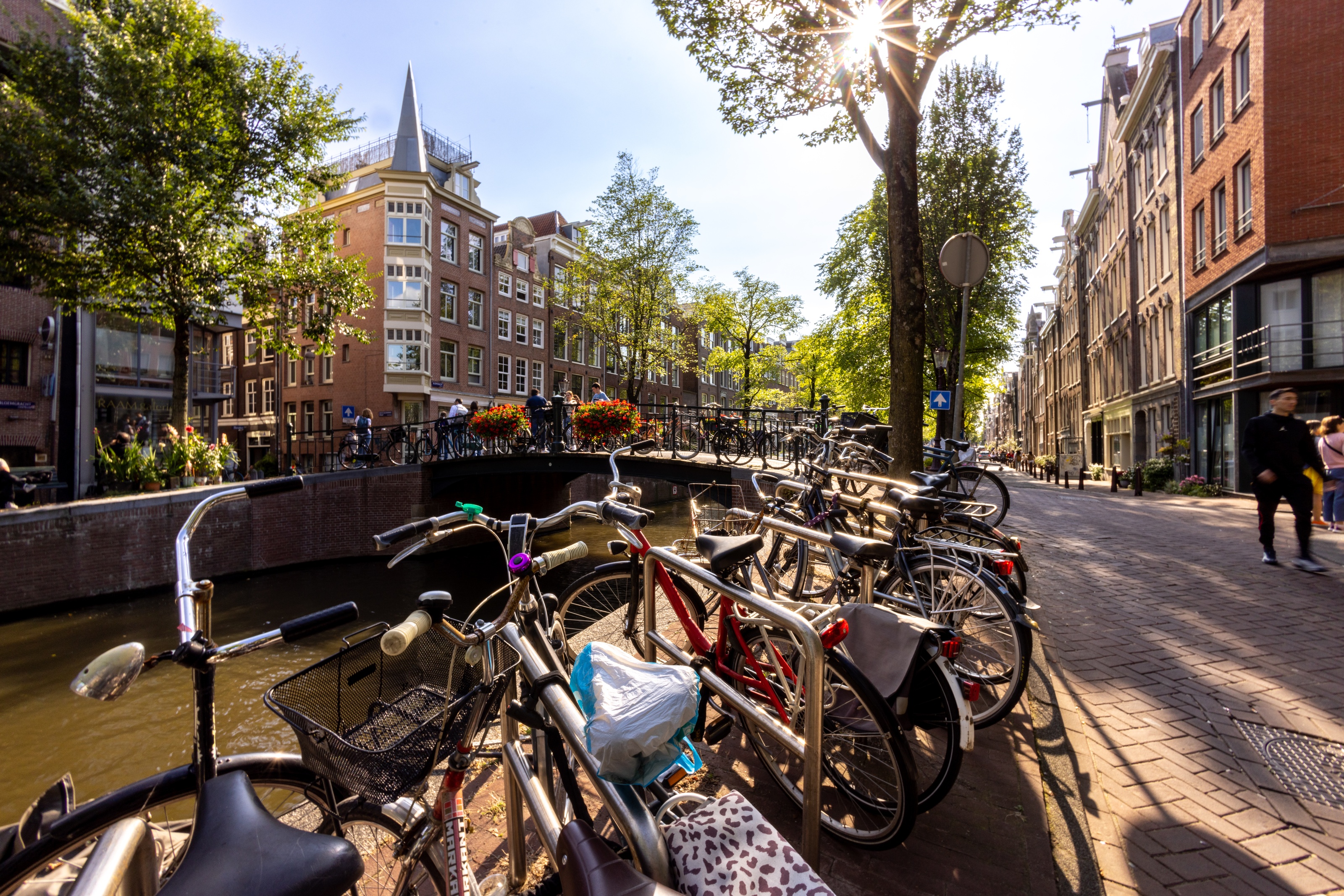 The second we got outside the train station the difference was palpable - rows and rows of bikes of every style and color. People whizzed by on dedicated lanes. I knew Vanmoof was based there but I had no clue just how integral to transit they are in the city. Some streets are bike only, all streets have bike lanes, and all crosswalks have a separate bike light. Bikes even get right of way over pedestrians, which we learned after some close calls.
The bikes make Amsterdam feel like a university campus. It isn't - at least not meaningfully. There are seven small universities within the city. But most people who live there are young professionals. In that way it feels a bit like a small New York. There are schools, but it's not a college town. Despite this fact, the people zipping around with shopping bags combined with the controlled chaos in the bike lanes felt like a very familiar sight.
It also made me consider how different a bike-first city feels. And it feels great. If they can do it, why not cities in the states? I assumed the answer was historical. Either:
Amsterdam was always had a biking city. It was built from the ground up to support bike infrastructure and would be difficult to do now.
World War brought enough destruction that they were forced to rebuild. They leveraged city planning research of the 1900s to build a more progressive city.
I was wrong on both counts. Amsterdam was largely spared of damage during the world wars, so they had most of their infrastructure intact going into the 50s. They always had a biking culture but the city wasn't explicitly designed for it, so there would be frequent accidents between cars and bikes that split small roads. Things came to a head in the 70s when the government made a big investment in bike infrastructure and completely rearchitected the city to support them. If they can do it other cities certainly can too.
We got in on the action. The Student Hotel rents cheap bicycles in the basement that we used for both days of our stay. Alas the bikes were beach cruisers, which I'm embarrassed to say I've never ridden despite their iconicness. Apparently, they only break by peddling backwards. After a few days of riding I got used to it but boy I miss my handlebar breaks.
Restaurants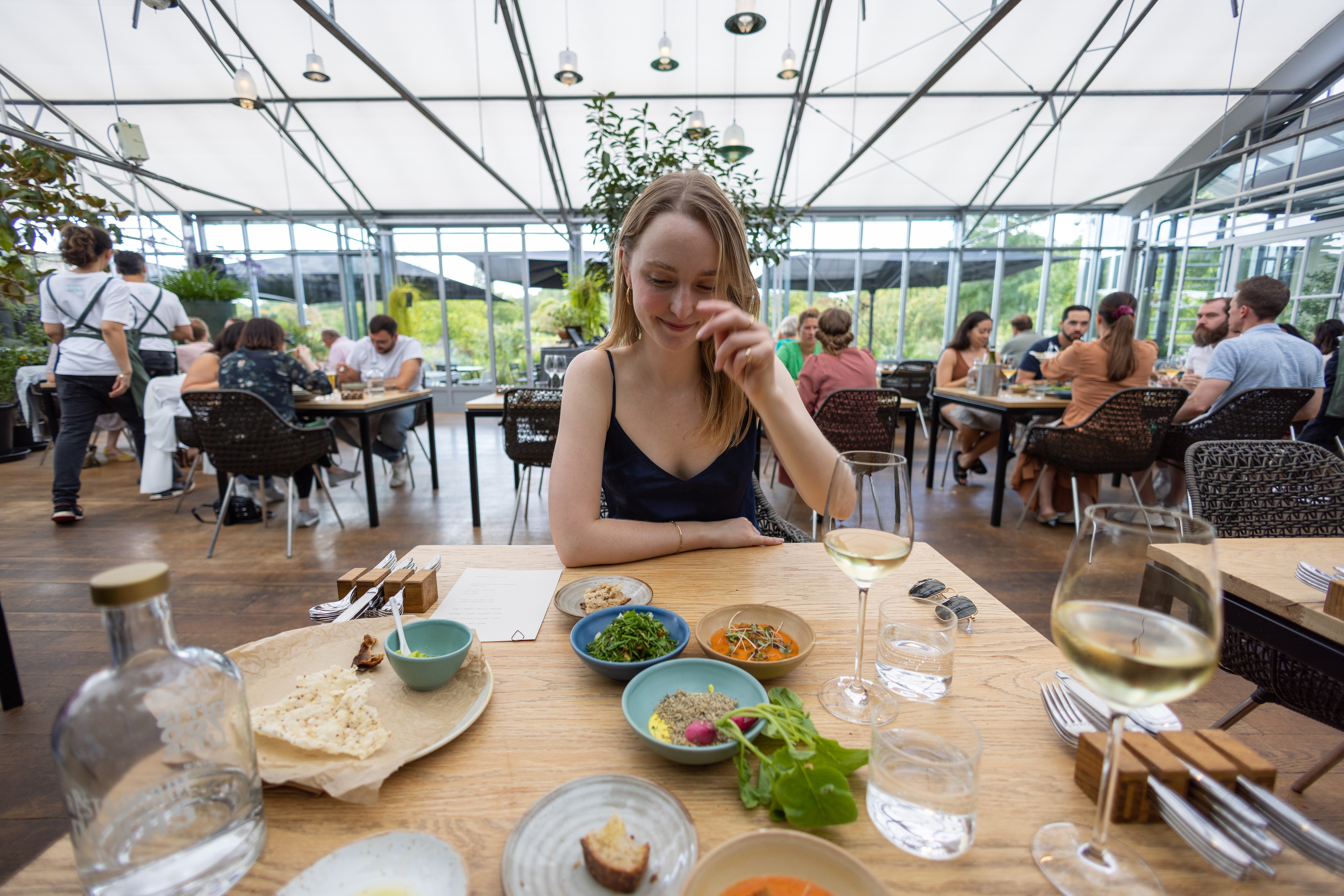 We spent most of our time bopping around to different neighborhoods, stores, and parks. To energize on our daily treks we spent a lot of time on the food scene. Restaurants make for good waypoints in a day of walking; they ground a rough destination while allowing for the spontaneity of everything in-between.
According to our friends that live there, Amsterdam isn't a huge food city. That certainly wasn't our experience.
De Kas: Farm to table dining without being over the top. There's no "here's a single carrot - enjoy" vibes here. The restaurant is a converted greenhouse and they grow a portion of their produce on-site. The rest they grow on a few acres a short drive from the city center. And this food was incredible. Incredibly rich flavors of tomatoes, cilantro that popped, shallots diced so fine you can barely notice. They just got their first Michelin star but the place hasn't blown up yet. The price is also right - when we went it was 41 euros for a four course tasting, including dessert.
La Dilettante Amsterdam: A pretty new wine bar in the city. They specialize in natural wines, which I still believe is mostly marketing hype but has some fantastic vineyards that call the technique their own. Friendly owner who was our main bartender when we went on Friday and chatted to us for a bit when we came back on Sunday. The inside is cozy, the outside extends onto a small patio on the street with string lights hanging on trees in the distance. From the decor to their mastery of the menu it's clearly a labor of love.
Bocca Cafe: Modern coffee shop with amazing coffee. Ice lattes were especially noteworthy. We stayed for a quick drink but it also seemed good for a day of work. Spacious lounges and tables. Music also on-point, were cycling through Chance the Rapper and Beyonce. It surprisingly worked.
D&A Hummus Bistro: Truth in advertising. Hummus is in their D&A. Incredibly creamy chickpeas, well cooked meat. The patio also looks onto a main shopping thoroughfare so there's plenty of good people watching on a sunny day.
Twee Prinsen: Right on a canal, this place was popping when we went on Saturday night. Great wine, cheese, and atmosphere. Abuzz with locals and expats, people were laughing and playing musical chairs with the wooden stools as they tried to grab more to expand the party. Sun streamed through the trees during sunset. Great place to spend an hour or three.
Copenhagen Bound
Still feeling like we just arrived, we headed back to the Amsterdam train station to catch our ride to Copenhagen. Unlike our previous ride the train left on time without a hitch. To the Nordics we go.